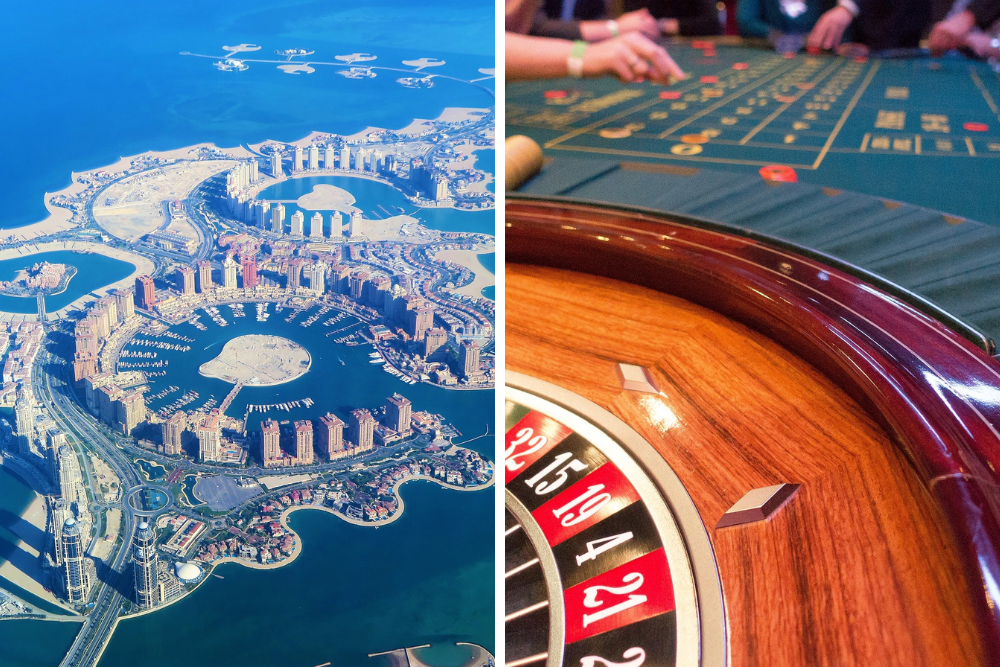 Qatar is a sovereign country located in the Middle East.
It is known for its luxurious hotels and resorts, cultural landmarks, and outdoor activities. However, one thing that tourists may notice is the lack of casinos and gambling establishments in the country.
Qatar enforces strict laws against gambling, and it is important to respect them while visiting the country.
In this post, we'll talk about:
Qatar's gambling laws
Is poker legal in Qatar?
Is online gambling allowed?
Things to do as a tourist in Doha
And more
Without further ado, let's get started.
Gambling Laws in Qatar
Can you gamble in Qatar?
The Penal Code of Qatar, which was enacted in 2004, prohibits all forms of gambling, including poker and betting. This is because this country's legal system is based on Islamic law, which considers it as haram (sin).
The authorities are very strict when it comes to enforcing these laws, and visitors should not attempt to participate in any form of gambling while in the country. Those caught can face severe penalties, including imprisonment, fines, and deportation for non-citizens.
The government of Qatar has taken several measures to prevent people breaking these rules, including monitoring social media and messaging apps to prevent illegal gambling activities. It also banned access to many international online casinos and betting websites to prevent online gambling.
Also, be prepared that the financial institutions in this country may block transactions to suspicious apps, should you try to get on those.
Can You Play Poker in Qatar?
No, you cannot play poker in Qatar legally. Same applies for online versions of it.
We can argue that poker is a skill and not your typical gambling game all day long, but the truth is, the majority of people and governments view it as that, and therefore it's illegal.
Those who wish to play poker, blackjack or any other card game legally must travel to other countries where it is legal.
Online Casinos: Are They Legal?
Online gambling is also illegal in Qatar.
The government has banned access to many international online casinos and betting websites. Despite the ban, some international online casinos still accept players from Qatar.
However, playing at these casinos can be risky, as there are no legal protections for Qatari players, and those caught participating in online gambling will have very unpleasant consequences.
It is also worth noting that Qatar has a strict censorship policy, and accessing some online casinos may be difficult due to the country's restrictions on internet access. Qatar blocks access to websites that it considers to be harmful to its citizens or to the country's values and beliefs.
It is important for visitors to respect the laws and regulations of the country they are visiting to avoid any legal issues.
While the temptation to participate in online gambling may be strong, it is not worth the risk of facing legal consequences in a foreign country. If you visit Qatar, engage in legal and safe entertainment options while respecting the local customs and laws.
Important note:
I've noticed that there are some websites that supposedly give you access to online poker, baccarat, roulette etc. And those looked a bit shady, and could possibly be a scam.
Overall, it's not worth risking your freedom by participating in online gambling. How about you wait until you travel to a place where playing card games is allowed?
Speaking of…
Casinos in Neighboring Countries
For those who are interested in gambling and want to travel to other countries, there are several options available.
However, I'll mention Egypt as it's a pretty popular touristy place, and perhaps the closest to Qatar (about 5 hours away by plane). It also has several casinos that non-locals can attend.
Here's a list of them:
Casino Hilton (Taba)
Taba Sands Casino (Taba)
Aladin Casino (Sharm El-Cheikh)
Sinai Grand Casino (Sharm El-Cheikh)
Hilton Sharm Dreams Casino (Sharm El-Cheikh)
Casino Royale (Sharm El-Cheikh)
Other neighboring countries you may consider within approximately 1000 miles from Qatar are Turkmenistan, Armenia, Djibouti (a country in the Horn of Africa).
Is There Poker or Casino in Dubai?
While it's easy to assume that Dubai with 80-90% of expats could have casinos, that's far from the truth.
It's still a part of United Arab Emirates, it's still a Middle-Eastern country that follows Islamic laws, and it also prohibits all forms of gambling. The UAE has similar regulations and enforcements as Qatar regarding online games too.
And just like Qatar, you may face serious legal consequences in Dubai.
HOWEVER, in 2023, Wynn Resorts unveiled plans and renderings for a 1,000-foot-tall hotel-casino in UAE. Even though there are strict gaming regulations, there's a way for Wynn to make this a reality.
(So click on our channel's notification bell if you want to stay tuned for our updates!)
Entertainment Alternatives for Tourists in Qatar
While gambling is strictly prohibited in Qatar, there are other entertainment options available for visitors.
Check out this video on things to do in Doha:
The country offers a range of luxurious hotels and resorts, cultural landmarks, and outdoor activities that can provide a unique and enjoyable experience.
Qatar has a vibrant sports scene, and visitors can enjoy watching sports events such as football (soccer), tennis, and golf. The country also has a growing e-sports scene, with events and tournaments being held regularly.
You can also enjoy shopping at some of the world's largest malls and experiencing the local cuisine. Qatar has a diverse food culture, with many international and local restaurants offering a range of cuisines.
If you want more adrenaline-filled activities, you can consider skydiving, rock-climbing, sandboarding, dune bashing, or zip lines.
And what about camel rides and dune bashing!?
(And this is just to name a few.)
Final Thoughts
As we've established, gambling is strictly prohibited in Qatar, and visitors should respect the country's laws and regulations while visiting.
While there are no legal casinos or poker rooms in Qatar, it offers a range of other entertainment options, including zip lines, skydiving, sandboarding, camel rides, shopping, and local cuisine.
For those who are interested in poker, blackjack, roulette and other games, the nearest country with legal casinos is Egypt, which has several casinos.
As for online (poker) rooms, you should also be aware of the risks of them in Qatar and neighboring countries too, and always check the legality of it before participating.
All in all, it is always best to respect the laws and regulations of this Muslim country you are visiting to avoid any legal issues.