---
There's no shortcut to long-term success. You have to take one step at a time if you want to fully master your game. With that said, it is not a bad idea to enroll in online courses which can help you grow as a poker player (or become a better one if you are already well-experienced).
The good news is that in 2022, Nathan "BlackRain79" Williams launched a poker training for beginners and advanced players, and it's one I'll gladly recommend here.
If you don't know him yet, Williams is one of the most successful online poker players and best-selling poker authors today.
Nate has over 10 years of experience playing AND teaching about the game online via his books, blog, and YouTube channel. He's found success on the (virtual) felt, has shared a ton of value for free, and now he shares the premium level strategies with his students in his Elite Poker University.
---
BlackRain79 Elite Poker University: Overview
Course name: Elite Poker University
Instructor: Nathan Williams
Product type: Online educational course
Payment type: One-time enrolment
Best for: Beginners and advanced poker players
Price: US$297.00 (use the code NETWORTH at the check out to get $100 OFF!)
The popularity of this card game is on the rise, thanks to many televised game shows hosting many variations of the game today. If you don't have any knowledge of how to play this game, then chances are, you will need a reliable source that will teach you things you can't learn by yourself.
Nathan Williams is a pro poker player with years of experience, and he is sharing his expertise to help you increase your win rate with the 17 hours of advanced training videos in an easy-to-understand manner, even for complete newbies.
Now…
If you consider yourself an enthusiast, or more or less advanced player, then you still should check out the Elite Poker University. It is for people who are serious about the game, want to have real and consistent results, and dramatically improve their win rate.
NOTE: Use the code NETWORTH at the check out to get $100 OFF!
---
Nathan Williams: Quick Bio About Your Instructor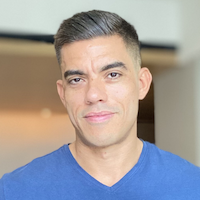 Before we talk about what's inside this online course, it's best to get a quick background on your instructor Nathan Williams aka BlackRain79.
He is not only known for crushing it online, but he is also very popular because he does this while traveling. (Originally from Vancouver, Canada, he then found settled in a paradise in Cha-am, Thailand.)
As a kid, poker was not on his list of hobbies. Instead, Nate was more of a sportsman and has always had high spirits ready for adventures. He loved playing hockey but mentioned that it was too expensive for his parents to afford at that time. With that, his dream of becoming a pro sportsman eventually faded.
Fast forward to when Nathan was in college, he found history and philosophy very much interesting. But after he graduated, he realized standard day jobs didn't suit him. He didn't fancy becoming a teacher or a lawyer. He wasn't satisfied being tied down to a 9-5 work cycle. He wanted to do more; be more.
In 2004, a friend introduced the young Williams to poker (Texas Holdem particularly) at a party, and ever since, his heart and mind were set on the game. The very next day, he discovered online platforms where you can play card games. Then the rest is history.
By the way, just to let you know, Nate here is the king of online micro-stakes. It means he plays small stakes but was able to grow his bankroll exponentially because of playing and WINNING consistently.
---
Elite Poker University: My Review
Now that you have an idea who your instructor is, we can skip right to the good part: the lesson overview.
So what really does BlackRain79 offer in this new poker course? Will it benefit advanced players as it would the beginners?
While the course structure is pretty standard (pre-flop, all streets action, ranges, bankroll management etc), what I love about Nathan is that he's a great instructor and really gets the point across.
So, this training has over 50 videos, each of which is very easy to consume. There are short videos of around 5-10 minutes, but there are others that last about half an hour. But the good news is that the entire lesson is subdivided into different categories to make them easier to watch.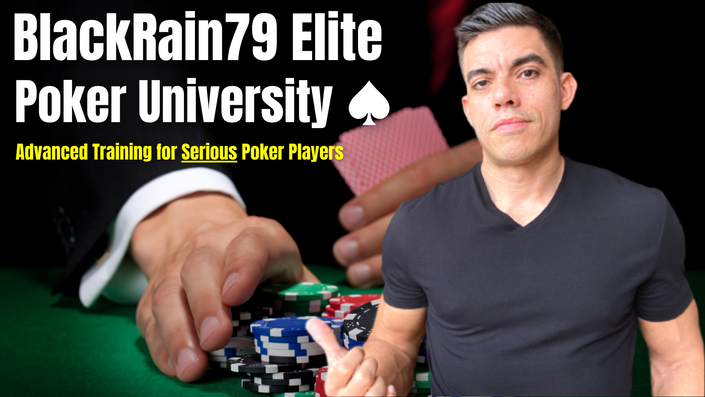 Here's what to expect one inside the course:
– Introduction
Here, Nathan welcomes all students to the course and gives a brief overview of what to really expect out of this training. He discusses how much you can potentially earn by playing different stakes, which games will make you get richer, and the types of poker players you definitely must know about.
– Elite Preflop Poker Strategy
In this section, Nate included three videos that will help you turn the odds in your favor even in preflop. You will learn which are the best hands to play, why you should play it, and which are the best ones to call or raise during this time of the game. It's hard to know what you're up against in the preflop, so you better know how to handle things to avoid major losses later as the game progresses.
– Elite Flop Poker Strategy
This is the most comprehensive part of the lesson. Here, there are 13 videos discussing several techniques you can use in the flop. Of course, BlackRain79 will teach you when is the best time to bet or check during this part of the game. You will also learn how much money you need to bet and what's the limit on betting.
Now, the training isn't just about betting stuff. Nathan will share with you some real-life tips on how to counterattack your opponents if they call or raise on the flop. Plus, if you're ready for it, there are advanced strategies you can try which will make your gameplay even better and increase your chance of winning.
– Elite Turn Poker Strategy
This section requires more thinking as the turn will challenge you with some major betting strategies. It is the part of the game where you need to really focus on if you don't want to lose so much money at the end of each hand.
A wrong decision in the turn and river will greatly impact the overall results of the game, so you need to know when to go big, or when to go home. This time, you have to decide whether you are ready to lose the money you are about to bet, in case your hand isn't the best on the table.
By the way, this part includes advanced strategies for expert players. But of course, as a beginner, you can still watch and learn from it. Though it may still be hard to grasp at this point in your poker career, it will prove beneficial in the long run.
– Elite River Poker Strategy
This is the part where they say, "Here goes nothing". This is your final chance to check-raise to obtain the maximum value out of your hand. For this part, Williams will discuss several strategies for different situations in the river.
For instance, he will share with you the basic techniques like the best bets and bluffing. And, he also has a pro-strategy he calls Triple Barrel Bluffs which he will teach you how to master. And most importantly, he will discuss your one true weapon in poker, the ALL-IN bet.
Let's admit it. Bluffing can only take you so far. If you're willing to go all-in, might as well know when is the right time to do that. If you bluff and go all-in then your opponent calls, you better hope he has worse cards than you have.
If you want to minimize losses, it's important to make a wise decision during this important part of the game. And that includes knowing your what type of players your opponents are and who is the "fish". Poker is largely about psychology, mental game, and exploiting the recs who don't study the game like you do.
– How To Manage Your Poker Career Like the Pros
Now, this part right here has a more personal touch. Though the entire course is based on the actual experiences of the instructor, this section will deal more with how you handle your career, or how you handle yourself as a pro card player.
Nate will teach you how to master Tilt Control, one of the most important things you have to remember. It's also this section where he shares with you some tips on how to improve bankroll management so that your career gets going.
But the most exciting part of it all? BlackRain79 is ready to spill some of the top secrets of legendary pro players in achieving a remarkable career in poker. And of course, you'll get a lot of helpful personal advice from the King of Microstakes poker (yep, that's Nathan).
– Bonus Section
And what good is an online course without bonuses, eh?
Well, you will get the chance to learn about Zoom and tournament format games where you'll gain deeper understanding of each and the strategies discussed. Not only that, but Nathan will also share with you some guides on how to play semi-professionally and as full-time pro as well.
And another bonus from me and Nathan: Use the code NETWORTH to get $100 off!
---
Final Thoughts
There's no better teacher than experience.
However, it greatly helps to have some experts who can guide you as you venture into the world of poker. BlackRain79's Elite Poker University course is a very comprehensive guide to mastering some winning strategies that can potentially make you a successful player.
But, the lesson can only take you so far. You still need to develop your own strategies as you go along because what might be effective for Nate, might not be as effective for you. After all, poker is a game of skill and your personal touch will always matter.
And more importantly: practice, practice, practice! Use the knowledge and take action.
So, are you ready to delve into the world of poker pros? Do you think you'll be able to become as successful as they are? Well, nothing's impossible so just keep playing, keep learning, and enjoy the game!