---
(Feature image: courtesy of WPT)
William G. Klein, most popularly known as Bill Klein, is a former entrepreneur who is now enjoying his life as a poker player. He hails from Laguna Hills, California, and was born in 1948. His family ventures in the manufacturing industry.
Maybe because he is well-versed in business, he wasn't afraid to enter high-stakes tournaments. He could be very much aware of the risks, but you don't have anything to worry about if you have card gaming skills like Bill.
He has played several tournaments with legendary opponents like Antonio Esfandiari, Garrett Adelstein, Phil Galfond, and so many others. Despite not having as much presence as these poker icons, Klein surely made a name for himself in the industry.
| | |
| --- | --- |
| Full Name: William G. Klein | |
| Birthyear: 1948 | |
| Birthplace: California | |
| Profession: Former businessman, pro poker player | |
| Wife: N/A | |
| WSOP Cashes: 7 | |
| Net Worth & Career Earnings: $1+ Billion | |
Disclaimer: This is a question that no one can answer with 100% certainty except for Bill himself. We can only assume their approximate net worth based on various sources that we've read or heard about. Let's get started.
---
William Klein Bio
Although Bill is a well-known businessman, his private affairs and early life have always been kept private.
What we know for sure is that he is from Laguna Hills, California. Also, his exact date of birth was not disclosed, but he was indeed born in the year 1948.
William's family was doing well in terms of business. However, they had to sell it after he learned he had throat cancer. Fortunately, Klein is now cancer-free and is living his best life playing either golf or poker.
The thing about this former entrepreneur is that when he became a poker player, every time he wins, he donates most of his earnings to charities. And when he loses? He also makes sure to donate the same amount of money (loss)/matches the buy-in to chosen foundations.
More than being a card player, he's a philanthropist who has touched the lives of many people.
---
Poker Career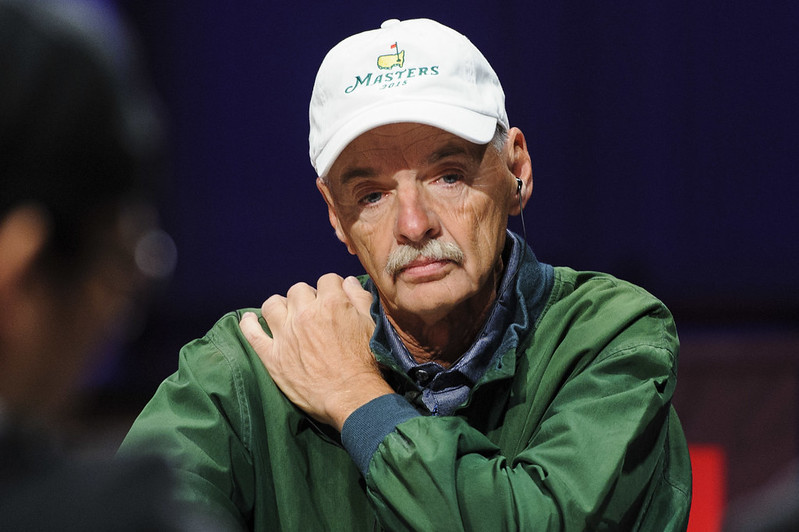 His earliest live tournament record dates back to 2008 when he played during the 38th WSOP in Las Vegas. This was even before he got sick and sold his business. So poker was a leisure activity for him at that time.
However, after selling his company, he decided to focus on his recovery and when he did recover, he devoted his time to playing card games and golf.
Just like many others who started with home games, Klein also learned about poker by playing with friends. Eventually, he started getting hooked on games with higher stakes, and then he started playing in official tournaments. This is where he because more popular.
He has been invited as a guest in various televised poker games like High Stakes Poker.
He was cast in Season 7 where he played with well-known names like Phil Laak, Antonio Esfandiari, Doyle Brunson, Rick Salomon, and Phil Galfond. During one of the episodes, Galfond was leading at the start, but he got a hit chip-wise when Klein pulled a nice bluff on him.
William also appeared in Hustler Casino Live with Ryan Feldman. This episode made history as the biggest hand in the show. Despite the absence of a HCL regular Garrett Adelstein during this episode, Bill and Feldman made some interesting bets that made the crowd go wild.
Another notable moment in Bill's poker career is when he finished 2nd to Jonathan Duhamel during the $111,111 NLH High Roller for One Drop event by WSOP in 2015.
Though he did not win 1st place, he was still able to get his best live cash winning amounting to $2.4+ million. That's a crazy amount of money.
But then again, the proceeds were donated to Orangewood Children's Foundation and Shea Therapeutic Riding Center, which helps disabled kids learn how to walk and talk. (The level of Bill's of kindness and compassion might give you the goose bumps!)
He also won against Antonio "The Magician" Esfandiari during the $250,000 Aria Super High Roller event in the same year. The winnings amounted to $450,000. Because of these consecutive wins, he ranked 18th in the all-time money list of TheHendonMob.
---
Personal Life
William Klein is one of the most low-key players in the industry, despite his thirst for high-stakes games. There is no information about his private life, especially about his family. But, what we know so far is that aside from poker, he spends most of his time as a retiree enjoying golf.
---
Bill Klein Poker Net Worth
Before becoming a poker player, Bill was already a successful entrepreneur.
So even if his poker winnings are donated to foundations and for other humanitarian causes, Klein still has very a high net worth of more than $1,000,000,000+. That's a lot of zeros there! In other words, he's a BILLIONAIRE.
He also had a few tournament cashes and these are the top 5 so far according to CardPlayer.com:
2nd place 2015 WSOP NLH for One Drop – $2,465,522
2nd place 2016 ARIA Super High Roller 11 – $349,920
1st place 2021 ARIA May High Roller Series – $324,000
2nd place 2022 PokerGo Cup – $246,000
2nd place 2021 DeepStack Championship – $236,500
So, do you know any other interesting facts about Bill Klein? Feel free to share them in the comments section below!