---
(Featured image: courtesy of MasterClass)
The poker industry wouldn't be the same without the legendary player Daniel Negreanu.
He is one of the best players and biggest ambassadors known today. Not only because he has huge winnings and a sizeable net worth, but he has several contributions to the poker scene as a whole.
Recently, Daniel Negreanu created a masterclass training that aims to help newbies become better at playing poker. It has been the talk of the town lately, and we want to share our two cents about this course.
So if you are looking for a training program to enroll in or wondering if the Daniel Negreanu MasterClass is worth it, then check out this review.
Daniel Negreanu MasterClass: Overview
---
'Kid Poker' Quick Bio
If you're a poker player based in Canada, then you surely know this guy (some Torontonians may even know him in person).
He is a renowned player not only in his region but on a global scale. He currently holds 6 WSOP bracelets with 215 cashes! Plus, he is one of the few players to join the Poker Hall of Fame.
Daniel is the son of Annie and Constantin Negreanu. He was born on July 26 1974 and was raised in Toronto, Canada. His parents were originally from Romania, but they decided to settle down in Canada to look for a brighter future for their kids, and they weren't wrong about that. Look at how popular Dan has become in the region.
The young Negreanu's love for card games, or gambling, in particular, started rather early.
At 16, he already started gaining interest in poker and other games. In fact, he quit high school with only one credit left to pursue a full-time career in poker. He went against older players but he never once felt small. He was winning his games, at a really stable record.
He used his winnings to grow his bankroll, and when he turned 21, he went all out and moved to Las Vegas to chase the ultimate poker dream. If you'd like to learn more, read full Daniel Negreanu's bio here.
---
Course Structure (Plus Video Review)
We all know how good Daniel performs on the felt. But, have you ever imagined him as an instructor? Do you think he'd be effective in teaching an ultimate "poker guide" for all aspiring players? Check out the course structure below and see for yourself!
So basically, this Masterclass has a total of 38 easy-to-consume videos. The entire lesson runs around 7 hours and 40 minutes. You have the option to take in everything in one seating, or study and learn at your own pace since they are modular.
All of these resources will help you learn the things you need to know when playing poker, especially for newbies. Plus, you get to hear some exclusive and effective winning strategies from Negreanu himself.
Without further ado, let's take a peek!
Basic Theories and Concepts (1st to 5th videos)
You will meet your mentor in this section – Daniel Negreanu. But it's not just your typical getting-to-know stuff. He will discuss the entire course structure so you will have an idea of what to expect while watching the lessons.
In this portion, you'll also learn about the foundations of playing poker. The proper training begins with a discussion of positions. This is a core knowledge you have to understand before you can play the game. If you know what are the different positions in poker by heart, you can create a lot of strategies as you go along.
Another topic included in this segment is hand ranges. When you start playing, the first thing that comes to your mind is checking your hand. Once you understand what you have and how it affects the cards on the board, you're quite set. However, you have to think beyond that to have an effective strategy.
Dan will teach you various techniques into training your mind into thinking what might be the hand ranges others are holding against you.
And for the most important part, included in this section is the game theory and math behind poker. If you're a beginner, paying attention to these things will definitely make the journey a whole lot easier.
Betting (6th to 9th videos)
Moving on to the next section, Negreanu will teach you how the bets work in this card game. This part is as important as the first few videos. Imagine knowing all the concepts but failing in every game just because you failed to learn how to bet. That's quite frustrating, isn't it?
Here, you will learn about C-Betting, check-raising, three-betting, and many more. Your mentor will not only teach you different ways to bet, but will also emphasize the importance of knowing when to raise, when to bet, and when to back down.
Actually, this is a very crucial section because the growth of your bankroll depends on your betting strategies mostly as well.
Bluffing (10th to 17th videos)
So, what's poker without bluffing? Probably another boring card game, eh?
This set of video lessons will tell you everything you need to know about bluffing – from start to finish. If you don't know how it works yet, don't worry! Daniel will walk you through it, explaining the importance of doing so.
It is in this part where you discover how you can spot a player who bluffs and how to maintain the right facial expressions when you bluff in case. It's imperative to know these things in order to make your gameplay more effective. But be careful and don't over-bluff, or you might end up losing more than you bargained.
Playing in tournaments (18th to 22nd videos)
There are various ways how you can play poker – cash games, tournaments, etc. In this portion, Negreanu will focus more on the strategies and techniques when playing in tourneys.
But don't get the wrong idea! It is still the same poker game. It's just that, in tournaments, your goal is to be the last man standing (or sitting?) on the table.
Personally, Dan is a man of tournaments. Since he has tried both cash games and tourneys, he mentioned tournaments are more of his thing because it has a beginning, a mid portion, and an ending. He also shares how it's fulfilling to expect a trophy after winning the game instead of just winning the pot.
Here, you will see Dan's personal techniques in conquering the felt during tourneys. Though it's true everyone has his own personal strategy, it's good to observe how pro players do it so that you get more ideas. The more you know, the better.
Plus, there's also a dedicated video discussing cash games. In case you are not a fan of tournaments, then you might find yourself wanting this other playing scheme.
Tells (23rd to 31st videos)
The thing about poker is that you don't play alone. You have opponents you have to be wary about. And that's what these videos are all about.
Negreanu, being a pro for a long time, has so much experience in this regard. Having played thousands of matches, he has developed an eye for observing his opponents, and he will share them with all of you here.
Basically, the point of this section is to try to read the minds of your opponent by observing their expressions and movements. At the same time, learn how to mask your own thoughts effectively. If you're not confident you can maintain a poker face while playing, then Daniel might just be able to help you out through this.
Life as a professional player (32nd to 38th videos)
Dan has been a pro player since he was 16; so experience-wise, he's got a say. His poker success didn't happen overnight. Just like others, he had his fair share of wins and losses.
In this section, your instructor will tell you what to expect once you become a pro player. Not only that, but you will also know how to become a pro or transition from your day job to a full-time poker career.
Included in this segment are some of Negreanu's personal financial advice to keep you afloat while you swim your way to success in this competitive poker industry. His insights may inspire you into turning your casual games into a money-making activity.
>>> To join the Daniel Negreanu MasterClass today, CLICK HERE.
---
Is Daniel Negreanu MasterClass Worth It?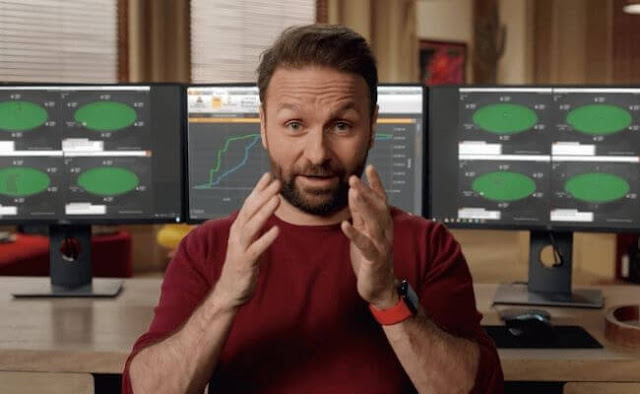 Every online course has its own set of good and bad, and MasterClass by Daniel "KidPoker" Negreanu isn't exempted from that. Here are things you should know about this course.
In terms of easy consumption, this MasterClass is one of the bests. The lessons are well-structured in the sense that you can easily view the topics you want without mixing them up with other information. Each video discusses a particular theory/information with straightforward titles. Do you want to focus on bluffs? You can see that in videos 10 to 17.
The good thing about this class is that it has interactive quizzes in between lessons. This will help you assess your level of understanding of the topics already covered. Plus, there are some film studies that allow you to learn based on actual games by other players.
KidPoker's best games discussed
Another exciting part about this class is that you get to have an exclusive breakdown of Negreanu's best games. This means you get to know his thought process, strategies, and betting techniques when he played some of his most-talked-about tourneys.
Application of theories in real-life scenarios
Daniel just doesn't stop teaching you about the foundations of the game in theory. He gives you some ideas on how to apply it in real-life situations by showing you how it is actually played.
I don't know if it's because Dan has been playing for decades, but there are just too much poker slang used throughout the entire course. Don't get me wrong, it's nice to hear these terminologies used, that's if you have an idea about them. But for ultimate beginners, this might just be too overwhelming at the start.
A traditional approach to playing poker
Some folks commented on various forums that Negreanu's strategies discussed here are conventional and outdated. If you're a beginner who needs a basic understanding of the gameplay and theories, then this is for you. But for advanced and expert players, this may come as a rather traditional way of playing poker.
Since Negreanu started playing, there have been many changes in the poker industry and it would have been better if he incorporated some modern techniques for other players.
Is Daniel Negreanu MasterClass Worth It?
It certainly is, I mean you're learning from a world class poker player. You will be gaining the solid foundation from one of the game's biggest winners of all-time. It's a simple and easy to use training that any beginner will appreciate.
To join the Daniel Negreanu MasterClass today, CLICK HERE.
(And if you are new and serious about poker, you should also check out the Elite Poker University by Nathan Williams.)
---
Final Thoughts
Anyone can dream of living a professional poker life. But, not everyone becomes successful at that.
In order to increase your odds, you need to have a strong foundation when it comes to game theories and strategies. Daniel Negreanu's MasterClass is one way to start your poker journey.
It's beginner-friendly for the most part, except for the use of some poker lingo (which you'd have to learn anyway if you're new to poker).
So if you're a total newbie in this industry looking for something that would help you learn the concepts, then this MasterClass by KidPoker is definitely worth your time and money.
You can also check out Phil Ivey's Masterclass (review) as well.
Now, if you're an advanced player who already has a solid foundation of the game, there are other alternatives for you like Solve for Why, Upswing Poker, BlackRain79 poker course, Alec Torelli's membership course etc.