---
(Featured image: courtesy of MasterClass)
Successful poker pros normally become an inspiration to aspiring players. Daniel Negreanu, Phil Hellmuth, Garrett Adelstein, and Phil Ivey are among the many iconic people in the industry looked up to by many newbies.
Seeing them play is one thing, but learning from them is another story. For the first time ever, Phil Ivey openly shares his strategies and techniques in playing for this MasterClass.
But, is this course worth your time and money? Yes, certainly.
Though this isn't as long as Negreanu's Masterclass, Phil Ivey discusses the topics in a comprehensive and in-depth manner, making it worth your while. Plus, you get to hear exclusive winning tips your mentor personally uses during his matches.
Without further ado, let's jump in.
Phil Ivey MasterClass: Overview
---
Meet Your Instructor (Quick Bio)
Phillip Dennis Ivey Jr., more commonly known as Phil Ivey, is a professional poker player of American descent. He has a very outstanding record in the industry. In fact, he was dubbed the "Tiger Woods of Poker" because of his skills on the felt.
Phil is the youngest player to ever win 10 WSOP bracelets and that record remains unbroken up to this day. On top of that, he also acquired a title in World Poker Tour. Achievement-wise, Ivey is the guy you would definitely envy.
This successful player was born on February 1, 1977. His family is originally from California but when he decided to pursue poker as a career, he moved to Las Vegas to chase the dream.
But before he became successful, Phil had struggled during his early years, especially during his adolescent stage. Since it wasn't legal for minors to gamble in casinos, he would use a fake ID which made him become popularly known as "No Home Jerome".
In case you didn't know, your instructor is also one of the founders of the original Full Tilt Poker, together with Chris Ferguson, Mike Matusow, Jennifer Harman, and others.
If you'd like to learn more, read full Phil Ivey's bio here.
---
Course Structure (Plus Video Review)
So, if anyone of you has subscribed to Daniel Negreanu's MasterClass, you're probably wondering how this one is any different.
Although they are both poker-related courses, there are several things unique to each class. This particular one consists of 12 video lessons plus 2 workbooks and it runs for around 3 hours and 30 minutes.
Let's see what's inside this training.
Lesson 1: Phil's Journey
This class begins with an introductory video so you will get to know more about Phil – one of the greatest poker players in the industry. Here, Ivey will share with you a part of his story and why he decided to play full-time.
In the video, Phil mentioned that in the past, he was a bit reluctant in sharing his strategies and personal techniques because they didn't have access to these things before. It's like, he worked hard in getting to where he is now, and it was kinda sharing a trade secret for free.
But today, so many things have changed in the industry and he wanted to help more people become better at playing the game, hence, this MasterClass.
This world-class poker player also mentioned he accidentally discovered poker when he was 8 years old. Instead of going to the bathroom, he took a wrong turn and saw people playing cards. Without knowing, that one wrong turn changed his life ultimately.
Lesson 2: Preflop Blind and Defense
This video lesson discusses heavily effective preflop strategies. According to your mentor, this stage is one of the most crucial parts of the game and it determines how the match will unfold.
Included in this section are topics on positioning, one advanced to expert players could easily relate to but still, sometimes find hard to master. He stresses the importance of knowing how to deal with your current position when playing. You should know how to attack and defend your hand, and your seat has a huge role in achieving that.
Lesson 3: Betting Tactics
One of the hardest parts of gambling is knowing how much to bet, and when to call it quits. If you're winning, it's easy to keep betting, but if the odds are not in your favor, you can easily end up losing your bankroll.
But, that's not the only aspect you'll learn in this lesson. Phil will share with you his personal betting techniques to maximize your winnings. Some insights about his previous matches will be shown so that you can see how this world-renowned player processes his thoughts in order to know the proper bet size and when to attack.
Learning these things from the pro will definitely make you think twice about recklessly placing your bets the next time you play on the felt.
Lesson 4: Bluffing
Your poker experience will never be complete if you haven't tried bluffing, or if you have never been bluffed hard before. This is a normal occurrence in both professional and amateur poker games.
Phil uses his own personal picks of previous hands he had to explain how this technique works. If you're good at bluffing, he mentioned your opponents will make more mistakes when playing against you, and that's the ultimate goal. When they make mistakes, that's your opportunity to strike and attack.
Lesson 5: Postflop (Part 1)
For Ivey, postflop is where the real deal happens. This is when the game gets really serious, and knowing how to handle situations during this stage will get you closer to the goal.
As the game progresses, players tend to make more mistakes along the way. If you're careful enough, you can use this as leverage over your opponents.
In this video, your instructor will emphasize how keen observation can impact your gameplay. If you know your opponent is making mistakes at a certain period in the game, you'll find more ways to beat them.
Lesson 6: Postflop (Part 2)
It's important to know when to attack, but it's equally essential to know when to fold. The toughest decision you have to make when playing poker is folding. When your gut is telling you to drop the card, but your mind tells you otherwise, that's when the dilemma begins.
So, when is the best time to fold? In this section, Phil Ivey breaks down one of his hands played in London several years back. This match was against Phil Hellmuth, another legendary player.
If you're not confident with your gameplay, this video aims to show you how Phil performed when he was relatively new to the game.
Lesson 7: Deepstack Play
This one talks about players who have deep stacks. Again, your mentor goes over his previous matches with Jennifer Tilly. Phil will share with you how he thought of getting through the hand without losing too much when you're in too deep.
The size of your stack will mainly dictate how you behave in the game. For those with large stacks, you can either enjoy the game for a long period or cut it short depending on your strategy.
Lesson 8: The Mental Game
If you still don't know it yet, poker is more of a mental game than it is a form of gambling. It's common for many people to think you can easily play as long as you know the rules and you have the $$. True enough, you can.
But becoming a successful pro player? That takes more than luck. There is math involved in this game. Plus, you need to do a lot of thinking from start to finish. From the bet size to the point where you need to fold.
READ ALSO: Is Poker a Game of Skill or Luck?
In this video, Phil will share some tips on how to stay level-headed during the game – you'll need it the most. You need to be wary of what's happening around you and you have to stay alert at all times if you don't want to make mistakes.
Lesson 9: Table Image and Tells
In-person poker games are so different compared to online rooms. If you play in flesh, your overall appearance and personality make up the "table image", which is very important.
The way you present yourself will determine how your opponents will treat you. If you dress down and act naive, many will prey on you and think you're an easy target. If you overdress and act so confident, some might feel threatened, or others wary.
Ivey will share with you some of his personal strategies for collecting bits and pieces of information about your opponents. This will help you create the best tactics to win against them.
Lesson 10: Strategies for Success
This portion is one of the best videos you'll find in this course. Your coach will share with you the training routine that helped him achieve a successful poker career. You'll know how he trained so hard and what amount of discipline it took for him to get there.
It will serve as an inspiration for those of you who are eager to get big in the poker scene.
Lesson 11: Closing
This particular section discusses Phil's experience of early success and how he wasn't really prepared for it. Since he already achieved so much at a very young age, he was rather reckless in spending his winnings and only cared about his wants. He admits he has made some pretty bad decisions in the past.
But, that really doesn't matter. What he wants to emphasize here is that he has grown so much since then. Within those 25 years, he managed to become better not only at playing but also at managing his success and earnings.
Lesson 12: Bonus (Seven Stud Poker)
This is a bonus lesson on another variation of the game. Sometimes, it helps to know more than one variant. Who knows? You might find the game you are best at while learning different variants.
Oh and also, this course comes with 2 PDF workbooks (summarizing the poker rules, and the lessons).
>>> To join the Phil Ivey MasterClass today, CLICK HERE.
---
Is Phil Ivey MasterClass Worth It?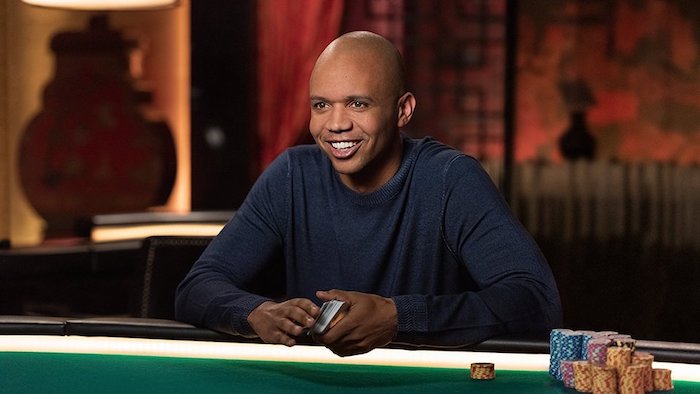 So, is Phil Ivey MasterClass really worth it?
Let's check out some of the pros and cons to help you make an informed decision.
The Good Stuff
Comprehensive discussion based on Phil's previous matches/hands.
Easy to understand with visual representations of the concepts.
Learning from one of the best players in the history of poker.
Easy access – phones, and tablets (both Android and iOS).
You get to get inside the mind a poker champion.
The "Not So Good" Stuff
Not so good for ultimate beginners.
Doesn't focus on poker math.
Discussions on some topics are limited.
Without a doubt, Phil Ivey's masterclass is definitely worth checking out for EXPERIENCED poker players who want to learn the high level strategy from the poker legend.
But, if you're totally new to the game, this masterclass is not for you. (If you're a beginner, then check out Daniel Negreanu masterclass, or the Elite Poker University (review) with a discount!)
---
Final Thoughts
Phil Ivey is undoubtedly one of the best poker players right now and learning from him is an honor.
But the thing is, not all experts have good teaching skills. Though lacking in that aspect, Ivey managed to produce a great course aimed to help lots of players become better at the game.
It's true there are other more comprehensive trainings out there, but if you're a big Phil Ivey fan, then this is totally worth your subscription. Anyway, you will have access to many more courses apart from this when you subscribe.
What are your thoughts of this review of Phil Ivey's masterclass? Have you taken it? Gained anything? Let us know in the comments below!