---
Featured image: Live at the Bike (left), CBS (center), Hustler Casino Live (right)
Garrett Adelstein, aka G-Man, is a high stakes poker crusher, a Big Brother to less fortunate children, a Survivor show contender, and all around one of the interesting people you'll come across.
He's also one of the best ambassadors for the game of poker, and it's not surprising why his name creates such a buzz on the Internet.
So in this post, we'll answer some of your burning questions about G-Man. Let's get started.
---
What does Garrett Adelstein do for a living?
Garrett is a pro poker player who usually plays $50/100/100 and $100/200/400 NL stakes. He's a regular at Live at the Bike and Hustler Casinos. (You can actually watch him and learn how he plays on those livestreams nearly every month.)
However, he's shared in one of the recent podcasts with Doug Polk or Joey Ingram that he no longer needs to play the game for a living. This means that he has a very high net worth.
READ ALSO: What Is G-Man's Net Worth Today?
While poker is likely one of his biggest sources of income, he also has other (passive) income streams like real estate, business projects, stock investments etc.
If this is something that you're interested to learn more about, check out this post on how does Adelstein make his money (with all the certain and possible sources of income revealed).
---
Is Garrett Adelstein a good poker player?
Not only is G-man a good player, but he's probably one of the best, if not the best, live cash game player of his generation. There is a reason why he's so popular in the poker community.
He truly crushes it on the felt and has amazing people reading and hand reading skills.
Check out the video below how he's destroying his opponents:
You may argue that he runs like God (and he often does), but 99% of the time he's just playing his A game – making great reads, incredible lay downs, bluff catching, folding when he feels he's behind.
---
Why is Garrett Adelstein so good?
Now, WHY is he so good? is a different question.
My guess is that first of all he doesn't have the fear of losing money.
As they say in poker "scared money doesn't make money" and it's very true. So I believe that's one of the biggest reasons why he can push people around on the table and put them under pressure and get them to fold (or can afford calling big pots).
Another reason he's good is because he had a lot of practice and did a lot of studying in the beginning of the journey and he's constantly improved. He also has a very aggressive style of playing and really that's exactly the style that will make your money in poker.
Check out Elite Poker University if you are new or an enthusiast, Conscious Poker Membership by Alec Torelli, or Solve for Why by Matt Berkey as your ultimate destination for advanced poker training.
---
Where does Garrett Adelstein play poker?
Adelstein mostly plays in California, particularly Live at the Bike and Hustler casinos. Those high stakes games are by invitation only and are live-streamed.
It's very possible that G-Man also plays private high steaks cash games similar to that of Tobey Maguire's (yes, the Spiderman) or Molly's game (which was based on a true story).
---
Does Garrett Adelstein get staked?
Because he plays such high stakes games, it's common for people to wonder if Garrett gets staked. No, he doesn't. The reason is that he's very bankrolled for his high stakes cash games.
(According to him, he never was sponsored and he never owed anyone money.)
You see, the reason why people get staked is so that they can build bankroll while they don't have their own money as much. In Garrett's case, that's unnecessary as he's a multi-millionaire.
Why does he need to take credit when he has a lot of money on his debit? Doesn't make sense, right?
---
How much money has Garrett Adelstein won?
Over his poker career, Garrett Adelstein has made millions of dollars. He's won money in both tournaments and cash games. Here are his past tournament results according to CardPlayer.com:
2016 World Series of Poker $10,000 NLH – $49,108
2010 World Series of Poker $10,000 NLH Main Event – $48,847
2008 EPT PokerStars.net Caribbean Adventure – $48,000
2011 World Series of Poker $15,000 NLH – $25,919
However, it's the high stakes CASH games that he's crushing at.
As I mentioned earlier, he plays minimum $50/100/100 and usually $100/200/400 stakes, with a minimum buy-in of $200K. He's always the most deep stacked at the table to cover any of his opponents. In those high stakes poker games, he can easily make $100-300K in just ONE poker session.

Holy smokes! That run good though!
---
How do you play like Garrett Adelstein?
The most obvious answer is to watch him play. You can easily do so by typing Garrett Adelstein on YouTube, and watch him participate in Live at the Bike and Hustler Casino Live streams.
(He's also appeared in season 9 of High Stakes Poker on PokerGo.)
You also need to have good bankroll management skills, great mental game, and a lot of experience playing poker.
One tip for you is to have a good bankroll to play the game (even at your own stakes). Garrett is able to push his opponents around on the felt because he doesn't have fear for money and he can afford going on some big downswings without really getting hurt.
No Limit Hold 'em is such a game where you must continuously improve, always study, and always analyze your own play and your opponents. Reading people and their hands correctly is essential to your success as a pro poker player.
If you'd like to join the courses that you can check out:
There are many great courses, you just need to feel who's more your kinda instructor, and which platform feels more intuitive to you and your successful learning. Try them out!
---
Where did Garrett Adelstein go to college?
Adelstein went to the University of Arizona and was one of the top performing students.
He graduated with Honors degree in marketing and entrepreneurship. If that's something you're interested to learn more about, here is more detailed post about his education.
---
What did Garrett Adelstein do before poker?
Garrett learned how to play poker at some point during his study in University of Arizona, so before poker that it was mostly high school and college time. There are rumours on the Internet that he was also a professional football player, but that's unconfirmed.
Shortly after, he participated in CBS' reality show Survivor and became even more famous. Now, he's famous thanks to those Live at the Bike and Hustler Casino Live streams.
---
What season of Survivor was Garrett on?
Since we touched on this topic, what season of survivor was Garrett on and where is he now?
G-Man was in season 28 of Survivor (in Cagayan, Philippines). Originally from Arizona, he now resides in Santa Monica, California. It's the reason why he can easily attend those live-streamed high stakes cash poker games that are by invite only.
---
Did Garrett Adelstein win Survivor?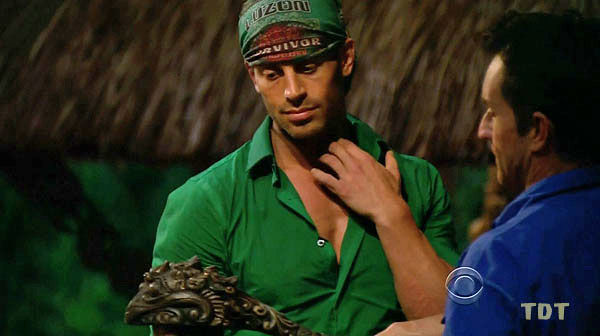 No, he did not. He was actually the second person to be voted out, despite being the first person to have found the Immunity Idol (a talisman that could have saved him during the Council Tribal).
Read this post for more info about his time on Survivor and after.
---
Is Garrett Adelstein married?
Yes, he is. His wife is Jennifer Stutland (who's a realtor in California) and they got married in 2021.
---
Does Garrett Adelstein have social media?
Yes, G-Man has some presence on social media. He has a Facebook page and an inactive Instagram page, but you can totally follow him on his Twitter @GmanPoker where he shares photos, news, and insights with his followers.
---
Final Thoughts
Well, there you are! 13 of your burning questions answered!
To sum up:
Garrett Adelstein plays high stakes poker, although he doesn't need to do that for a living anymore.
G-Man is one of the best players right now!
He's good in poker because he has amazing hand and player reading skills.
Garrett plays in Live at the Bike, Hustler Casino, PokerGo, and possible private high stakes games.
No, Adelstein doesn't get staked or sponsored. He has a high net worth and has 100% of himself.
Over his poker life, G-Man has won millions of dollars in poker.
To play like him, you can watch his livestreams and learn his style, and always study your play & the game.
Garrett Adelstein graduated Summa Cum Laude from University of Arizona.
Garrett was on Season 28 of the Survivor.
No, he did not win in that reality show.
Yes, G-Man is married.
You can follow him on Twitter @GmanPoker.
Now… I'd like to hear from YOU:
When/how did you learn about this man? What did you find attracting? Do you watch him play on poker livestreams? Let us know in the comments below!