---
(Featured image: courtesy of Eva Rinaldi)
We all know Tobey Maguire. I mean, who doesn't?
He's the friendly neighborhood Spiderman, Peter Parker. But did you know that aside from this major role, he also makes it big in the poker scene? Well, that's just one of the many interesting things you will find out about our protagonist today.
You might have heard rumors about him being a big player in Molly's Game. Today, you will discover how big of a role he played in all these private poker games.
| | |
| --- | --- |
| Full Name: Tobias Vincent Maguire | |
| DOB: June 27, 1975 | |
| Birth Place: Santa Monica, California | |
| Profession: Actor, film producer, poker player | |
| Wife: Jennifer Meyer (separated) | |
| WSOP Cashes: 3 | |
| Net Worth and Career Earnings: $100+ Million | |
---
Tobey Maguire Bio and Poker Career
Tobey hails from California, with parents Vincent and Wendy Maguire. He probably got his talent in acting from his mother Wendy, who has several works done in Hollywood and even acted for several years there. On the other hand, his father Vincent was known to be a cook.
Two years after he was born, his parents got separated. In an interview with The Guardian, he admitted that he spent most of his time couch-surfing from one relative to another because of their financial situation. But, he never considered himself unlucky to be in that situation.
Tobey never finished high school. He decided to focus on his acting career instead. So at the young age of 14, he started officially acting with the guidance of her mom. In 2002, he bagged the main lead for the Spiderman movie, and the rest is history.
There's no doubt the movie was a hit and everyone was probably thinking that Tobey's career will be in full bloom. But contrary to that, he shied away from the limelight, and later it was found out that he was busy making money on poker tables.
---
Molly's Game
Ever since Molly's Game aired (based on a true story), Maguire has always been associated with the movie, him being the A-list celebrity who first initiated the private poker games for his rich Hollywood connections.
This was backed up by Houston Curtis in his book titled "Billion Dollar Hollywood Heist".
In Curtis' book, he mentioned the famous 'Spiderman' actor collaborated with him to create one of the biggest underground poker games ever known in Hollywood.
For a span of 4 years ( from 2005 to 2009), they hosted a poker game every Tuesday, with players they personally handpicked. This included very famous celebrities like Leonardo DiCaprio, Ben Affleck, and Matt Damon.
Molly, on the other hand, was the main hostess of the games.
And that explains the correlation between the three big names mentioned in Curtis' book. Though in the movie Molly's Game, she was depicted as the mastermind of the entire plot, there was so little she did for those games. It was mostly Tobey's idea and he had the list of the people who they want to be invited over.
According to Curtis, the hostess served as a distraction so they could rake up the winnings through the Spiderman actor's poker skills.
Their rich Hollywood friends would end up losing almost every single game, and that's what made Tobey and Curtis bag millions worth of $$. According to him, Maguire could have easily earned $30-$40M from those underground high stakes games.
If you've watched the movie, you will know how it all went down to the drain with the Feds charging everyone involved in the high-stakes poker games.
---
Personal Life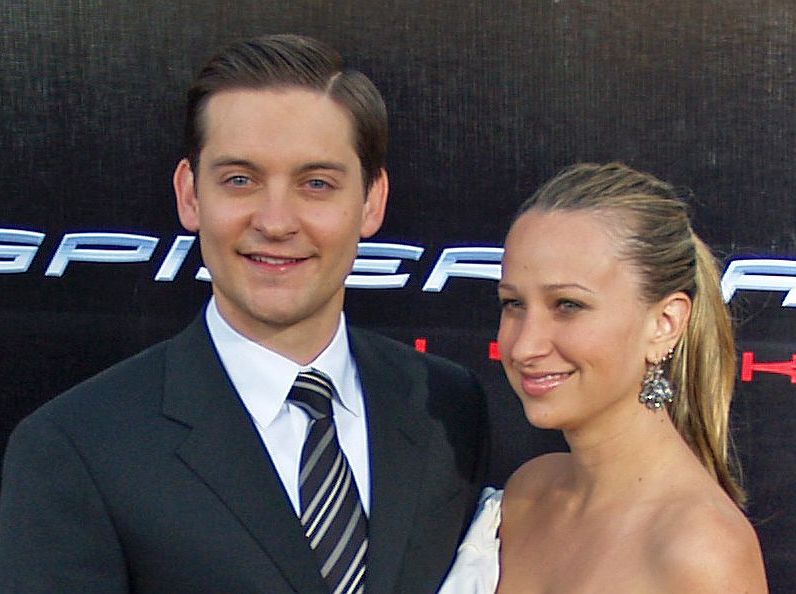 Maguire and Jennifer Meyer got married on the 3rd of September 2007. They were dating for four years and decided to tie the knot in Hawaii in 2007. They met while Tobey was filming for Seabiscuit.
They had their first child in November 2006 – a lovely baby girl named Ruby. Shortly three years after, their second child Otis, was born. Everyone thought it would be a happy ending for these two, but they shocked the world by announcing their separation in October of 2016.
Oh, by the way, did you know that Jen used to deal at the high-stakes poker table with Maguire before? The actor wanted her to be part of what he's doing and according to Curtis, they would be counting their earnings each night together.
---
Tobey Maguire Net Worth
So, after all the controversies with the high-stakes poker games, how rich is Maguire really? Does his game-winning make up for the missed acting opportunities he had in Hollywood?
Currently, Tobey has a net worth of a whopping $100+ million. That's probably a combination of earnings from his acting career, as a producer, and poker tournament wins.
According to records, the star has earned $51,669 from joining the World Series of Poker tournament. Additionally, he has total winnings of $16,201 from the World Poker Tour.
He was also the first place winner during the 2004 Championship of Poker (Phil Hellmuth Invitational No-Limit Hold'em) and won a total of $95,480.
Even though he's crushing it in the poker scene, it's likely that it's not Tobey's main source of wealth. Although from what we hear, he can easily make $1 cool million a night at high stakes cash games.
What are your thoughts? Let us know in the comments section below.