---
(Featured image: courtesy of WPT)
Phil is one of the biggest names in the history of modern-day poker, next to guys like Daniel Negreanu, Antonio Esfandiari, and Phil Ivey. He has won numerous world tournaments and has been included in the Hall of Fame of WSOP.
At the young age of 24, he became the youngest player to bag the prize for WSOP's Main Event in 1989. He broke the record of Johnny Chan, who was then the two-time defending champion for the said game.
Aside from being a professional American poker player, he has also made video training for poker enthusiasts. Two of his most popular works are "Phil Hellmuth's Million Dollar Poker System" and the Black Belt Poker course.
Additionally, he also wrote books revolving around poker. He authored Play Poker Like the Pros which talks about various strategies in winning the game.
Right now, he is residing in Palo Alto, California.
| | |
| --- | --- |
| Full Name: Phillip Jerome Hellmuth Jr. | |
| DOB: July 16, 1964 | |
| Birthplace: Madison, Wisconsin | |
| Profession: Professional poker player, entrepreneur, author | |
| Wife: Katherin Sanborn | |
| WSOP Bracelets: 16 | |
| Net Worth & Career Earnings: $23+ Million | |
---
Phil Hellmuth Bio
Phil is the eldest son of Lynn and Phil Hellmuth Sr. He was born and raised in Madison, Wisconsin under a family with strong Catholic beliefs. His father was a Dean while his mother was a humble sculptor. He also has other four siblings, of which little information was made public.
Growing up, he was exposed to card games at an early age. He said his greatest influence would probably be his grandmother. In high school, he began taking interest in poker by playing with his classmates. Shortly after, he became so into the game that he decided to join tournaments with the goal of stashing in some cash, which he did.
Mind you guys, he is not your average poker player. Phil is also an entrepreneur with several lines of business from clothing, real estate, publishing, and casinos.
He also appears in some TV shows and provides occasional inspirational speeches. This also include the popular game in its day "The Big Game" by PokerStars, hosted by Amanda Leatherman-Negreanu.
He played with major players like Doyle Brunson, Phil Laak, Vanessa Rousso, Daniel Negreanu, Scott Seiver, David Williams, Antonio Esfandiari, Barry Greenstein, Elky, and so forth).
---
Professional Poker Career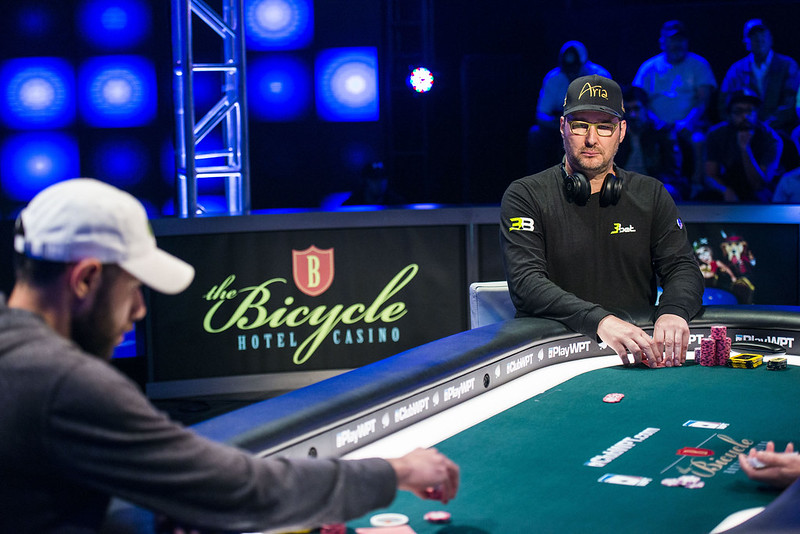 Just like the Canadian star Daniel Negreanu, Phil Hellmuth is one of the biggest players in official poker tournaments.
Right now, he holds the title with the most cashes in the World Series of Poker, having 178 cashes. He also has the record of holding 69 final tables in WSOP and 8 in the World Poker Tour.
Up to date, Phil now has 16 bracelets, which clearly shows how much of a big fish he is in this industry. All these were won from 1989 to 2021. Out of these, he bagged €1M+ from WSOP Europe.
(He also invited famous actors like Tobey Maguire for his invitational No-Limit Holdem.)
Now, you might be wondering how he got the title "Poker Brat".
Well, this has been coined due to his personality during poker matches. He is notorious for being rude to his opponent during matches, and there was even one time he walked out from a televised match because he couldn't stand the counterattacks (in words) of his rivals. Hence, the nickname is quite fitting.
---
Books and Merchandise
Poker Brat has written numerous books about poker with tips, techniques, and strategies to help you become a winning player. Here's a list of the books he authored:
Play Poker Like the Pros (May 2003)
Phil Hellmuth's Texas Hold'em (October 2005)
Read 'Em and Reap : A Career FBI Agent's Guide to Decoding Poker Tells (November 2006;Co-author)
Bad Beats and Lucky Draws: Poker Strategies, Winning Hands, and Stories from the Professional Poker Tour (October 2004)
Poker Brat: Phil Hellmuth's Autobiography (August 2017)
#POSITIVITY: You Are Always In The Right Place At The Right Time (December 2017)
Aside from these informative books, he also has a separate clothing line with the brand Poker Brat. They mainly sell caps and tees with designs that will remind you of poker, Hellmuth, and everything in between.
Also a few year ago, he even collaborated with Oasys Mobile to create the mobile game of his dream – Texas Hold'em by Phil Hellmuth. This app no longer exists but back then, it was quite something among poker players.
---
Personal Life
There's really nothing much mentioned about Hellmuth's personal life publicly, except that he is married to Katherin Sanborn and has two sons with her. His wife works at Standford University as a psychiatrist. They are now living in Palo Alto, California.
Their story began when they met at the University of Wisconsin during their college years. Later on, Poker Brat decided to propose to Katherine after bagging his first-ever gold in WSOP.
---
Phil Hellmuth Net Worth
Having all these titles and records, you are probably wondering, just how rich is Poker Brat?
As of this year, Hellmuth's net worth is estimated to be around $23+ Million. That's a combination of his earnings from his professional poker career and other personal business I mentioned earlier.
His total career winnings are currently recorded as $16,267,561 from WSOP alone. If you count all casino earnings, it can reach as much as $24+ Million.
His top three cashes were as follows:
$1M No-limit Hold'em The Big One for One Drop Event 55 (July 2, 2012) – 4th place, $2,645,333.00
$300,000 No-limit Hold'em Seven Max (June 1, 2016) – 4th place, $1,600,000.00
2012 WSOP Europe Main Event (October 4, 2012) – 1st place, $1,333,841.00
What do you say was the most impressive win by Phil? Who would you root for, Phil Hellmuth or Daniel Negreanu? Any other interesting facts about Phil Hellmuth that you know of?
Share your thoughts in the comments section below!