---
(Featured image: courtesy of WPT)
Almedin Imsirovic is one of the youngest and most promising pro poker players today. He is half Bosnian and half American. Although originally born in Bosnia, his family had to move to the US when he was 3 years old after the Bosnian war.
His childhood dream was to become a professional basketball player, but I guess fate has its own plan. Due to an ankle injury, he bid farewell to this ambition. Instead, he became rather interested in poker at a very young age.
It was during a 2017 WSOP wherein he first cashed his winnings. He managed to beat several older pro card players by skill and luck. It pays to really start early, yeah?
Right now, Ali is still active in playing poker and is considered to be one of the brightest stars in the industry today. (However, his reputation has been tainted with cheating allegations against this high roller.)
| | |
| --- | --- |
| Full Name: Almedin Imsirovic | |
| DOB: January 29, 1995 | |
| Birthplace: Zenica, Bosnia | |
| Profession: Professional poker player | |
| Girlfriend: Kristen Nyman | |
| WSOP Cashes: 43 | |
| Net Worth & Career Earnings: $10+ Million | |
---
Ali Imsirovic Bio
Ali was born on January 29, 1995 in Zenica, Bosnia. He was raised there until he was three years old. His father was his biggest influence when it comes to poker. Why? Simply because his father was a hardcore card player as well.
Though you may think that his dad pushed him to play the game, it's contrary to that. They say he wanted Almedin to stay away from casinos and gambling in general. Little did he know, Ali already fancied the game and later on went to pursue the same path.
In fact, the rising poker star taught himself how to play. He said he bought every poker book he could find at that time, and that included Daniel Negreanu's book on how to play small ball. He was very eager to learn on his own and clearly, his efforts paid off shortly after.
It wasn't until he was 16 that he really expressed his interest in the game. It was a Black Friday event and he wanted to just play for fun with his friends. And that paved the way for his professional career as a card player.
---
Poker Career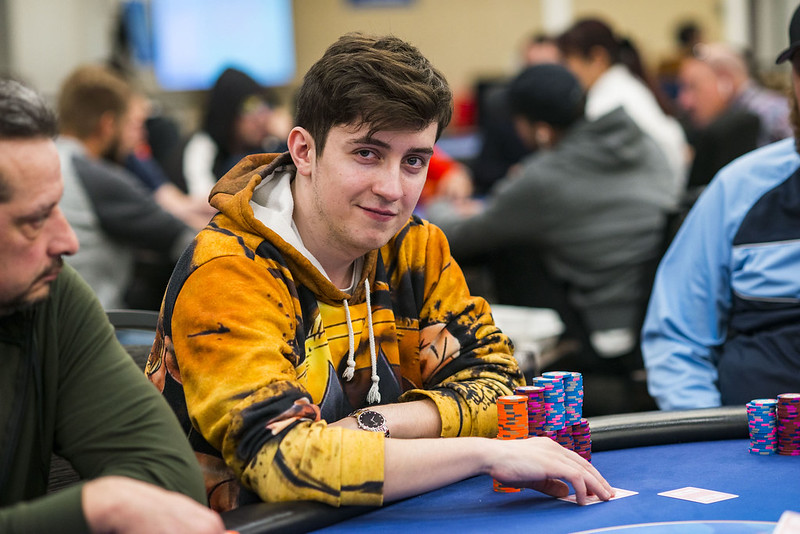 At 18, Ali started participating in official tournaments. His father once gave him a few bucks in order to have his guitar fixed, but he used this to play poker for money at a local pub. Believe it or not, he was able to win a total of $1,500 using the $60 capital he had back then.
When he started playing the game seriously, he managed to accumulate enough funds to play, learn, and earn through poker at the same time. He indulged in lessons and courses to become a better player, and now he is reaping what he sowed.
Among his winnings, bagging the Purple Jacket during the Poker Masters event was the biggest achievement he had, according to him. It was very special for him since it was said to be one of the hardest hurdles you would ever encounter as a card player.
You need to always do your best because all the best poker players are there.
---
Poker Over School
Before he decided to really focus on poker, Imsirovic was studying at Washington State for a criminal justice degree. He only had a semester left before he graduates but decided to focus fully on the game. Most of us would think it's such a waste knowing how near the finish line we already was, but that didn't really matter to Ali.
But if I were in his shoes right now, I wouldn't regret the decision either. He has achieved probably way more than what people his age has ever done working white collar jobs.
As for his personal life, we know very little info about who's he dating now (if he does).
---
Ali Imsirovic Cheating in Poker?
Apparently there were rumors prior to that, but in April 2022, Foxen publicly accused Ali Imsirovic of cheating in live and online poker and Twitter literally erupted with the similar allegations against this player.
Alex Foxen claimed that the rumours that he heard a few years ago and consistently came from highly reliable sources from other high rollers.
He then outed him of cheating after he was recorded on camera looking at Paul Puah's hole cards Ad5 which affected his play (and it was a strange line to take in his hand situation, in a sense as if he knew that Ace of diamonds and a 5 were dead).
What's strange is that the next day Ali showed up to the tournament in sunglasses, something that we've never seen him do. To many, this looks extremely suspicious.
Whether the allegations are true or not, we don't know and don't claim it to be true here, but here's an episode by the Solve for Why team on Only Friends Podcast that you can watch and make a decision for yourself.
(Apparently, there was also a Jake Schindler and Bryn Kenney scandal. Bryn was also mentioned in the podcast regarding his cheating activities/allegations in high stakes online poker.)
---
Ali Imsirovic Net Worth
So, how much is Ali Imsirovic worth? At the age of 26, this young poker star is already estimated to be valued at $10+ Million. Thinking he's still early on into his professional career, that's quite a feat!
As of today, he has had total cashes of 43 at WSOP. His total winnings has now reached $1,023,992 from WSOP tournaments. He also had 2 final tables at World Poker Tour events.
Here are his top 3 cashes ever recorded:
2nd place 2019 Super High Roller Bowl London – $1,089,000
1st place 2018 Poker Masters – $799,000
1st place 2021 WPT Seminole Rock'n' Roll Poker Open – $695,355
So, do you know any other interesting facts about Ali Imsirovic not mentioned here? If you do, please feel free to share them in the comments below!