---
(Featured image: courtesy of WPT)
Steve Aoki isn't your typical pro poker player. In fact, he doesn't have a professional career playing the game. He is a DJ, music producer, and audio programmer. He is known as one of the richest DJs today, having released several Billboard hit songs.
Recently, he has been named as the brand ambassador of the World Poker Tour. He is known to be a big fan of the game and even played with some of the poker legends like Ivey, Maria Ho, and Tony Dunst.
When he isn't dealing with music, he's having fun playing poker with his friends. Now, his love for the game just keeps getting bigger, which is more than enough to make him eligible for the new title.
Right now, this successful DJ is residing in Las Vegas, Nevada.
| | |
| --- | --- |
| Full Name: Steven Hiroyuki Aoki | |
| DOB: November 30, 1977 | |
| Birthplace: Miami, Florida | |
| Profession: Professional DJ, music producer | |
| Wife: Tiernan Cowling | |
| WSOP Bracelets: N/A | |
| Net Worth & Career Earnings: $95+ million | |
---
Steven Hiroyuki Aoki Bio
Steve is a Japanese DJ born on November 30, 1977. His parents are Rocky Aoki and Chiziru Kobayashi. His father is a popular wrestler before and now has become a restaurant franchise owner.
The young Aoki was born in Miami, Florida but he was raised in Newport, California. He has two siblings Kana and Kevin, and he also has a half-sister who is a popular model/actress – Devon Aoki.
He was part of the varsity team for badminton at Newport Harbor High School where he graduated. Ever since he was young, he was already into sports and music.
After high school, he went to the University of California, Santa Barbara where he studied sociology and feminist studies. He graduated with both bachelor's degree in those courses.
While he was still in college, he already produced his own music and even hosted several indie concerts in his housing unit located near the campus. His room was then known as The Pickle Patch.
When he was already in his early 20s, he built his own recording label known as Dim Mak. He named the label as such with Bruce Lee as his inspiration.
---
World Poker Tour (WPT) Ambassador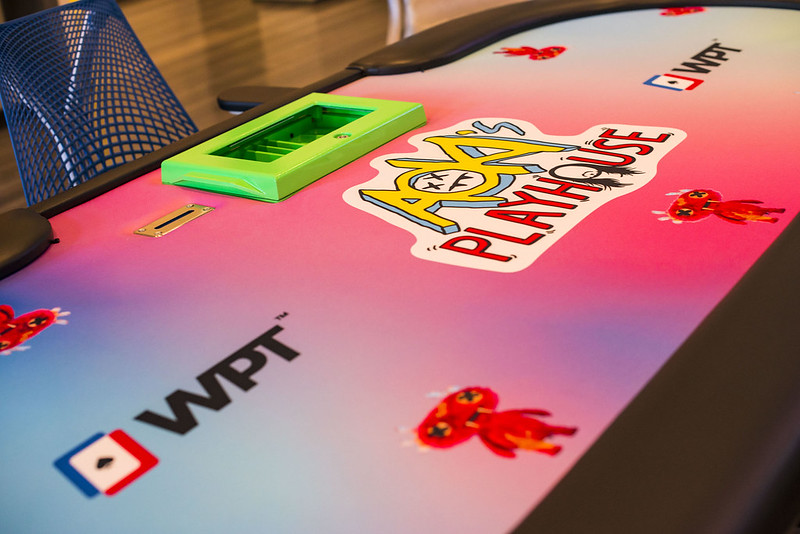 Aoki is a big fan of poker. For several years (probably a decade or so), he has been vocally expressing his love for the game. If you've come across his Twitter account, you'll see how much he enjoys watching/playing poker.
According to Steven, it was really an honor for him to become the new Ambassador for World Poker Tour, the organization he has admired for quite some time now.
(They also scouted a famous poker vlogger Brad Owen to be a WPT Ambassador!)
The CEO of WPT also said that it was the young Aoki's energy and dedication that made them pick him as the next face of World Poker Tour. They were amazed at how good he deals with everything thrown at his way; his way of life in general.
A lot of people look up to Steven Aoki because he just exudes so much passion and dedication in everything he does – poker and music alike. He has become a source of inspiration for many, which makes him a great fit for the role.
He will play a major role in increasing brand awareness for WPT. Since he has a large following in his social media accounts, this will definitely benefit both parties.
One of the interesting events Steve and the WPT did was to host a game at Aoki's Playhouse which is one of a kind, unbelievable, dreamlike mixture of art, music, and fun. They brought 5 lucky qualifiers to have a once in a lifetime experience firsthand playing not only against the DJ, but also Maria Ho and Phil Ivey!
---
Personal Life
Steve Aoki is married to Tiernan Cowling. They were engaged in 2010 and then got married 5 years later in Hawaii. No other information about his personal life has been disclosed. Despite his global popularity, he has kept this aspect as quiet as it can be.
---
Aoki in the Music Industry
He has collaborated with several successful artists like BTS, Linkin Park, Backstreet Boys, Will.I.Am, Fall Out Boy, Iggy Azalea, and many others.
His music has been well-accepted globally. It's all thanks to his never-ending effort of touring so many locations to promote his music and record label. He has become one of the most sought-after DJs today.
His fanbase is composed mostly of college students. Well, the reason for this is that he has toured so many campuses and locations worldwide. He allegedly has over 250 tours per year. Does this man even rest? We can only imagine how jam-packed his schedule is.
Aside from being passionate in music and poker, he also enjoys playing video games. Because of his love for eSports, he became the co-founder of Rogue, an eSports company.
---
Steven Aoki Net Worth
Though he doesn't play in official poker tournaments and big leagues, his net worth is astonishing.
At 44 years old, his net worth is already estimated to be at $95+ million! That's mostly from his career as a DJ and record producer.
So, have you ever seen Aoki play on the felt? Are you excited to see him carry out his duty as the new ambassador of WPT? Let us know your thoughts in the comments section below.