---
(Featured image: courtesy of WPT)
Jason Mercier hails from Hollywood. But don't get me wrong, he isn't some sort of actor in any sense, he just happens to live in that very neighborhood. On the contrary, he's a very popular professional poker player for all the right reasons.
He has been awarded 5 WSOP bracelets and was named player of the year by both Bluff Magazine (2009) and World Series of Poker (2016). Not only that, but he also holds the title of being the player who stayed in the 1st rank on the Global Poker Index for the most weeks. At present, he has a record of being 1st for 84 weeks.
Certainly, Jason's got really some interesting achievements and his poker career is on an entirely different level. However, all that began to change when he focused more on his family life.
| | |
| --- | --- |
| Full Name: Jason Mercier | |
| DOB: November 12, 1986 | |
| Birthplace: Fort Lauderdale, Florida | |
| Profession: Professional poker player | |
| Wife: Natasha Barbour | |
| WSOP Bracelets: 5 | |
| Net Worth & Career Earnings: $20+ Million | |
---
Jason Mercier Bio
Mercier was born on November 12, 1986, in Florida.
His father is Rick, who works as a COO for a golf cart business. When it comes to life, he is Jason's main source of inspiration. Ever since he was young, his father instilled values in him that made him who he is today. One of those is the belief that you have to be in it to be able to win it.
Jason has three other siblings and he is the youngest. Other details about his early family life haven't been disclosed, but we know for a fact that he grew up in a loving home.
As a child, he has always been fascinated with sports. In fact, he even became part of his high school's basketball team when he was in his first year. Since Mercier was so serious about basketball, every loss was very devastating to him, as he recalls.
After high school, Jason went to Florida Atlantic University to pursue a college degree in teaching – Math. He was doing well in school, especially with the major subject, but he got distracted as he learned more and more about poker. Instead of getting good grades in school, his academic performance was hitting below average, and that's when he realized that school isn't his thing.
Shortly after having realized that his heart and mind long for the card game, he dropped out of college and pursued a career in poker instead. Just like many other players, he started playing virtually. He opened an online account and deposit funds to play for real money.
Because the card game is a gamble, there were also ups and downs for the aspiring professional player. He didn't always win. And there was even a time when he ran low on financial resources, he had to work at a grocery store. Also because of this part-time job, he was able to fulfill the promise he made to his father and finished his degree at Broward Community College.
Despite the few setbacks, Mercier never lost interest in poker. He was still very passionate about it and still played online but he had to set a tight schedule due to other commitments at that time.
Thanks to his dad's teachings, his work ethic, even when dealing with multiple goals, was still on point. He never had an issue exercising discipline for work and play.
Since Jason was able to get a bachelor's degree in teaching, he became a substitute teacher for some time, but then he realized he'd rather sit and play on the felt than teach. With that, he made a choice to focus his attention solely on poker.
---
Poker Career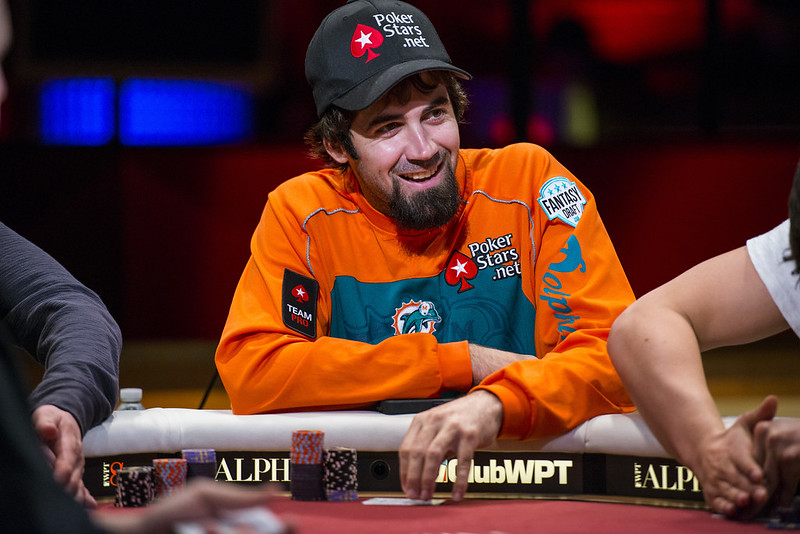 After figuring out that the typical teaching job didn't suit him, he tried his luck on the professional poker scene. In 2008, he joined his first official tournament – Sanremo EPT 2008 main event. He won first place with a cash price of €869,000. Wow! For his debut tourney, that's one big win. But that's only the beginning.
In the same year, he also got another EPT title. This time, the tournament took place in London and it was for a prize of £516,000. Any player his age would probably be overwhelmed by the sudden success he was experiencing as a newbie in the industry.
But Mercier? He kept his cool throughout.
The following year, Jason got his first (of the many) WSOP bracelets during the $1,500 PLO game. Though the cash prize isn't as big as the ones he took home from EPT events the prior year, this was one of the most memorable tourneys he ever won. After all, isn't it every poker player's dream to own at least one WSOP bracelet?
When it comes to career highlights, we could say 2016 was Jason's year. That time, he got 2 more WSOP bracelets and was able to make it to the final table in another World Series of Poker event.
Our guy right here not only enjoys live tournaments. He also actively participated in various televised games and appeared mostly in Poker Night in America and High Stakes Poker. Mercier is a crowd favorite and many commentators noticed how lucky he is on these games.
During his appearances in TV shows and the biggest tourneys, he went up against legendary players like:
Jason Koon,
Lex Veldhuis,
Mike Matusow,

Elky

,
(Just to name a few.)
Also, Mercier was once part of Team PokerStars and stayed on the team for almost a decade. After their contract expired, he decided to go his own way because he wanted to be more family focused after his son was born.
---
Personal Life
Jason is married to Natasha Barbour. The couple got engaged in 2016 and in a very chic way. Our guy asked the ultimate question during the WSOP event (Rio Amazon room). Barbour was vying for a World Series of Poker bracelet at that very table but got only finished third place.
Despite that defeat, she won the heart of Mercier which the latter proved by proposing to her at that very moment. After two months, they announced the news that they were expecting a baby. If you have checked their Instagram accounts, you'll see how much they love their little son.
Our poker star decided to devote most of his time to Natasha and their son. He even said he wasn't the type to get excited during Christmas, but when he became a dad, he now had something to look forward to during the holidays.
---
Jason Mercier Net Worth
If you think this player is just lucky to always win in tournaments, you're half right. Given Jason's track records, it looks like lady luck just stayed by him.
But the thing is, it's not always luck that brought him victory – it's the insane poker skills. You can't achieve that much based solely on chance. You need to have the right strategies, and most players know that.
So, what are Jason Mercier poker winnings?
According to TheHendonMob, his total live earnings are valued at $19,899,092! Considering his winnings in online platforms and cash games, we could very well expect his net worth to be around $20+ million.
To give you an idea of where that came from, here are his top 5 cashes, and this is only for WSOP:
2nd place 2014 Summer High Roller Series – $1,622,181
2nd place 2013 EPT Monaco Grand Final – $1,443,270
1st place 2008 EPT San Remo S4 – $1,364,330
1st place 2008 PokerStars.com EPT London S5 – $905,141
1st place 2016/2017 WPT Showdown (SHRP) – $794,600
What do you think of Jason Mercier? Did you miss seeing him in official tournaments? Share your thoughts below!