---
(Featured image: courtesy of WPT)
Daniel Cates is an American professional poker player known for his insanely excellent skills in heads-up NLH. He isn't only good at live tournaments, but he has also once dominated the online card rooms on Full Tilt Poker and PokerStars. Despite being very young (at 33 years old), he has had a really great record in the industry.
Also known as Jungleman, he has over $11 million in winnings from online game rooms, and another $11+ million recorded live tournament earnings.
In September 2021, Dan joined Run It Once, a poker training platform by Phil Galfond. Not only is this man seen as a genius on the felt, but he is really entertaining as well. If you don't believe me, then you probably haven't watched his introductory video on ROI.
| | |
| --- | --- |
| Full name: Daniel Cates | |
| DOB: November 14, 1989 | |
| Birthplace: Bowie, Maryland | |
| Profession: Pro poker player | |
| Wife: N/A | |
| WSOP Bracelets: 2 | |
| Net Worth & Career Earnings: $22.3+ million | |
---
Daniel Cates Bio
Dan was born in Bowie, Maryland on November 14, 1989. He describes himself as aloof since he prefers being alone rather than spending time with peers as most youngsters do. Instead of hanging out with friends, he would play lots of video games during his free time. Cates loved playing Command and Conquer so much.
If you think that his addiction to video games hindered him from performing well in school, you got that totally wrong. In fact, he was able to achieve a 99% score on the SAT. Not only that, he got a perfect score in Math. Now, isn't he a genius?
Though he was exposed to poker at a very young age, he still went to college to pursue his academic goals. He went to study at the University of Maryland and took up a BS in Computer Science course. However, he fell in love with poker so he decided to drop out of school to play the card game full time.
---
Poker Career
Daniel started playing poker games at the age of 17. He would usually play online and even at some local poker clubs.
Cates instantly got hooked on the game and he even challenged some of the regulars to play against him. But the thing is, this guy didn't do it simply to brag. Dan was smart enough to play with more experienced players so he could study their strategies and techniques.
When he first played the game, he was losing a lot of money, like many newbies do. (Side note: even the pros can lose it all as seen with Gus Hansen.)
Though Dan was good in math and had some sort of advantage because of this, he was still not that well-experienced, and that's pretty much expected.
There was a time his bankroll wasn't keeping up so Cates had to get a job at McDonald's.
He never backed down. The 'Jungleman' was able to devise his own game plan that he called "reverse game selection". With this, he started challenging local club-goers to play with him. During their match, he would silently observe the techniques of his opponents and think of different ways to counterattack them effectively.
Because of that smart decision, he was able to overcome his financial woes and continued playing poker for money.
Later on in life, Dan got his first WSOP bracelet in 2021 during the $50,000 Poker Player Championship. Plus, he won the same event just this year, which means he was the back-to-back player champion.
In June 2022, he won first place in the Alpha8 Johannesburg High Roller tournament held in South Africa at Emperor's Palace Casino. Here, the new champ was able to beat poker legends Phil Ivey, Jason Mercier, and Antonio Esfandiari. He earned $500,000 as the first-place winner.
By the way, Alpha8 is a WPT televised poker series where many pro players are invited to play. This show began in 2014 and is still showing at present.
This year, Jungleman bagged a major win during the 2023 Triton Poker Super High Roller Series in London placing 3rd and cashing out $1,940,000. He also appeared in a couple of episodes of Hustler Casino winning a total of $339,000+.
---
"Durrrr" Challenge
If you have been in the industry for quite some time, you've probably heard about the Tom "Durrrr" Dwan challenge.
It's a dare announced by Tom that he would give a 3 to 1 odds for anyone who plays 50,000 hands of heads-up poker. The first few players who accepted the challenge were Phil Ivey, Patrik Antonius, and the Jungleman himself.
When Dan and Tom were into about 20,000 hands, Full Tilt Poker was involved in a controversy that put the challenge on hold in 2011. But during this time, Cates was already leading the game with $1.2 million. Many onlookers were eager to see the dare get moving again after a few years, but until now (a decade later) it looks like Dwan doesn't have any intention to resume.
However, there is no bad blood between the two, and Cates mentioned Dwan was able to pay more than half a million dollars in penalties alone. And of course, they communicate on social media from time to time. But there's really no telling if these two will still be able to finish the dare.
---
Daniel Cates Ghosting Controversy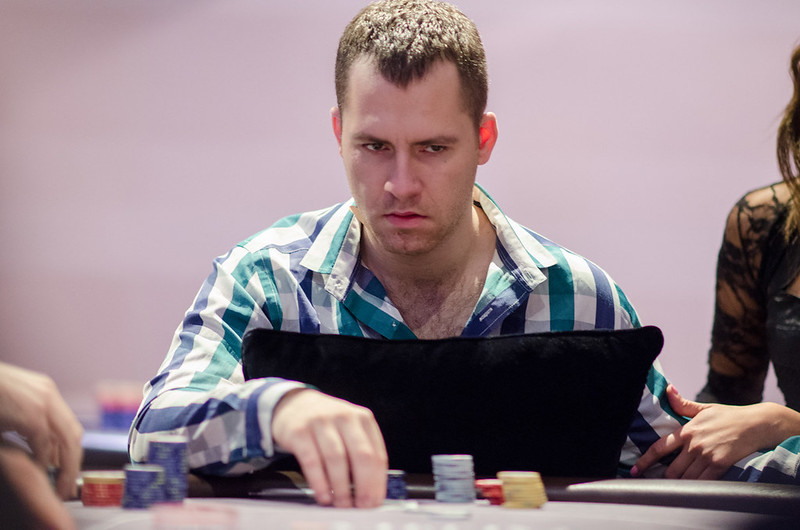 When the pandemic hit, many players turned to online poker rooms to continue playing the game. Bill Perkins and Dan Bilzerian are among these people. The scandal was publicized when Perkins took to Twitter the allegation that Cates was a "ghost player" using an alias.
After some time, Daniel owned up to the scandal and confirmed his involvement in the issue. However, he said apologized for his actions. He has since reflected on what he did. But not everyone was pleased even with this. Some say it's not a big deal, but other players say it should not have happened in the first place.
---
Dan Cates Net Worth
Gone are the days when Daniel worries about his bankroll.
Because of his smart strategies and wise judgment calls, he was able to build up his finances to an overwhelmingly large sum. Today, Cates is estimated to have a net worth of $22.3+ million coming from live tournaments, online winnings, and cash game prizes.
Here are some of his best cashes:
3rd place 2023 Triton Poker Super High Roller Series London – $1,940,000
2nd place 2014 EPT Season 10 Monte Carlo – $1,776,127
5th place 2019 Triton Poker Super High Roller Series London – $1,651,028
1st place 2022 WSOP – $1,449,103
3rd place 2017 Triton Super High Roller – $1,009,470
Do you think Daniel Cates can still win more WSOP bracelets? Do you think his reverse game selection strategy will work for a long time? Share your thoughts in the comments section below!