---
(Featured image: courtesy of WPT)
One would automatically think that WSOP title holders live the life of a celebrity. That is quite understandable considering how fame and fortune are closely tied with each other. Chance Kornuth is not only financially successful, but he's really famous in the industry as well, very much like a real celeb.
Chance is a very successful player with 3 WSOP bracelets, a WPT title, and even an EPT win. Based on the recorded live tournament winnings alone, he has as much as $11.5 million in earnings. An amount a little shy than that of super high rollers, this still makes him one of the richest poker pros today.
| | |
| --- | --- |
| Full Name: Chance Kornuth | |
| DOB: June 24, 1986 | |
| Birthplace: Denver, Colorado | |
| Profession: Pro poker player, online educator, founder of CLCpoker.com | |
| Wife: Emily Tai Kornuth | |
| WSOP Bracelets: 3 | |
| Net Worth & Career Earnings: $19+ million | |
---
Chance Kornuth Bio
Kornuth was born in Colorado on June 24, 1986. He has a brother named Adam. Growing up, they practically did almost everything together, even playing online poker. In fact, it was he who introduced CK to poker. But his sibling decided to quit playing the card game after Black Friday while Chance took a leap of faith.
Chance went to Bishop Machebeuf Catholic High School. After graduation, he got into the University of Colorado Boulder to get a degree in Engineering. But, CK wasn't so sure it was the path he wanted to take, so he dropped out of college with only a semester left. He didn't care about getting a degree anymore.
This young man decided to play poker professionally right at that moment. But of course, that wasn't a hasty decision. Even when Chance was still in college, he was already playing the card game for money. Since poker earned him enough to have a sizeable bankroll, it made the decision easier.
---
Poker Career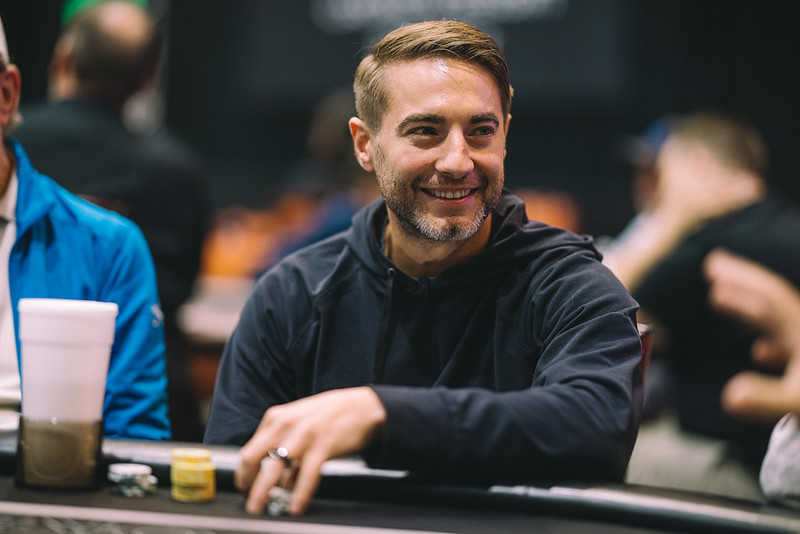 Together with his brother Adam, Chance loved playing poker even when he was still young. When he got into college, Kornuth was still undecided on which was the best life he should lead. With only one semester left before graduation, CK decided to follow his heart and play poker professionally.
Like most people, online poker was his first platform. He had accounts with Full Tilt and PokerStars where Kornuth raked millions in prizes, increasing the bankroll exponentially. But that was only until 2018. These past few years, live tournaments were his focus.
In one interview, CK mentioned he had a rough start with live tourneys. Though both platforms host the same game, there was an added element that made him do a double-take.
In the hopes of getting the best technique, Chance did way too many experiments in the beginning, even if it meant losing. But looking back, he is grateful for the experience considering how good his live tournament records are now.
2008 was the beginning of Kornuth's breakthrough. Though it was not as grand as a 7-figure pot, it was the beginning of success. After his first-ever cash in July of that year, many other cashes followed. But it was only in 2010 that he got a major win – a WSOP bracelet at that!
Just recently, CK finished 2nd during the 2022 WSOP Event #2 $100,000 High Roller Bounty. David Peters was the one who defeated him during this game. Despite that, the runner-up still took home $720,000+ in poker earnings.
But even before the WSOP tourney, Chance already won his first-ever WPT title in the same year. It was during the World Poker Tour Choctaw Main Event for an almost half-a-million-dollar pot.
In 2020, Chance participated in the Phil Galfond Challenge with other well-known players like Bill Perkins, Ioannis Kontonatsios, Dan Cates, etc (For what it's worth, Jnandez PLO expert ended up backing out.)
Below is a video where Chance opens up about conceding the Galfond Challenge:
If you thought 2022 was a good year for CK, then clearly you still don't know how much he has won this year (2023). To date, he has already earned about $4.4M in tournaments and special poker events just 8 months into the year.
He was so close to getting his fourth bracelet but ended up finishing 2nd to Alexandre Vuilleumier during the 2023 WSOP Event #2: $25K High-Roller 6-Max, cashing out $751,463. Plus, he bagged a total bounty of $498,608 during the Wynn Summer Classic $2,200 Mystery Bounty.
Kornuth also bagged a hefty $1.2M+ prize during the 2023 $250,000 No Limit Hold'em Shot Clock event. All these winnings further increased his net worth to a whopping $19M+.
---
Chip Leader Coaching
This is the pioneer live tournament training platform you can find online at clcpoker.com. Founder Chance Kornuth wanted to share his skills and expertise about live tourneys through this e-learning hub. Together with him as a coach is none other than Alex Foxen and many others.
But, this is not your typical training site. Instead of charging a membership fee or on a per-lesson basis, they will get a certain percentage of the trainee's winnings. At some point, this is a good idea because it provides some sort of assurance that the techniques they teach will bring positive results. Because if it doesn't, then what earnings would they even get from that?
CLC offers 4 different types of products – THE CLOSER, CHIP LEADER AI, BRACELET HUNTER, and OPTIMIZING YOUR MIND. All these have different functions depending on your needs.
The Closer is an online course that runs for 10 weeks focusing on conditioning your mind, teaching you various winning strategies, and more. While Chip Leader AI is a training platform where you get to play with the computer to enhance your skills. The other two products are more on specific goal-oriented strategies if you want to play as a pro in live tournaments.
---
Personal Life
CK currently lives in Las Vegas with his wife Emily. Just recently, they put up their Vegas mansion for sale and it is the talk of the town instantly. The property was bought in 2018 and so many modifications and upgrades were made. Naturally, the property's value has skyrocketed in a matter of 4 years.
Though they had lots of memories there according to Kornuth, they had to sell the house because they wanted to get closer to their family. Regardless, best believe they have a pretty awesome new home waiting for them again.
---
Chance Kornuth Net Worth
So what are Chance Kornuth's poker winnings? Let's discuss his biggest tournament cashes and net worth here.
Currently, he holds 2nd place (previously bagged the top spot but was beaten by Bin Weng lately) in the Global Poker Index ranking according to TheHendonMob. This player also ranks 65th on the all-time money list (currently). Right now, his net worth is not publicly announced but it is most likely around $19+ million.
Here are some of his best cashes so far:
5th place 2023 WSOP $250,000 NLH – $1,202,318
4th place 2023 WSOP $100,000 NLH – $833,854
2nd place 2023 WSOP $25,000 NLH Six-Max – $751,463
2nd place 2022 WSOP $100,000 NLH $25K Bounty – $721,144
3rd place EPT Season XI PCA $10,300 NLH – $641,140
So, do you think Chance Kornuth is the best live tournament player today? Which of his strategies do you like the most? Share your thoughts in the comments section below!