---
(Featured image: courtesy of WPT)
Sam Trickett is a professional poker player of British descent. He was a former football player before he became a pro card player. Career jumps like these aren't so rare, especially these days. But Sam isn't one of those people who had the poker dream since childhood. He was more into sports.
But as they say, life happens. One moment you are a sportsman, the next second, you find yourself enjoying an exclusive table game away from all the physicalities. And I guess we can all see how good that transition turned out. Right now, he is one of the most famous players in the industry.
Many people in the industry remember one of the most (if not the best) highlights in Trickett's career: getting second to Antonio Esfandiari, and taking home a cash prize of over $10M! You'll know more about this insane event below.
| | |
| --- | --- |
| Full Name: Sam Trickett | |
| DOB: July 2, 1986 | |
| Birthplace: Nottinghamshire, England | |
| Profession: Pro poker player, former football athlete | |
| Wife: Mieke Dockley | |
| WSOP Cashes: 19 | |
| Net Worth & Career Earnings: $30+ Million | |
---
Sam Trickett Bio
Sam is an English pro card player with several amazing records on his resume. He was once the title holder for UK's all-time money list in THM, but that was snatched by Stephen Chidwick in 2019. But, it's not that much of a letdown, really. He still ranks second among British players all over the world, and that doesn't sound too bad.
But before he went full-on with the card game, he first fell in love with sports, particularly football. In an interview, he said that one of the things he loved going to school was the fact that he'd be able to play in the field during breaks. That inspired Trickey to come to school every single day.
He would always be so excited and had an active personality, so becoming a poker pro was definitely far-fetched back then.
Actually, Sam was into a lot of different sports during high school. He played basketball and even cricket, but his heart was set on becoming a pro footballer. During those times, he didn't care about his academics because he was determined to become a sportsman, which he almost achieved.
At the age of 10, he experienced the first and probably one of the most painful rejections after trying out for Nottingham Forest (a European football club). But his heartbreak didn't end there. He suffered several rejections after that as well. However, his love for the game is so immense that he never stopped trying. He just needed some push from his dad and he improved so much by the time he was 16.
Trickett was so close to getting into the Hucknall Town team, but fate has its way of showing you that your calling is different. The young lad, unfortunately, had a serious anterior cruciate ligament injury that prevented him from playing on the field ever again. Though he had an option to go into surgery for it, he chose not to and decided to let go of his original dream.
Since his ambition to become a pro sports player would be impossible to achieve, he turned to play pool at a local pub.
He became obsessed with the game, but that didn't last long after he knew how much other professional pool guys make. He was frustrated at how small the cash prize is, that he immediately stopped playing. According to Sam, it was not worth his effort.
---
Poker Career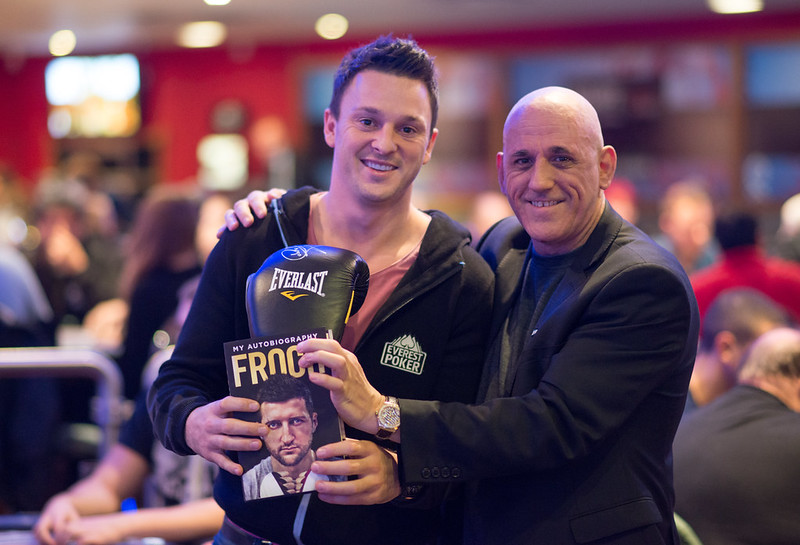 Since Trickett didn't become a football player and he didn't think prize money from official pool tournaments are worth it, he decided to take on an engineering job with the help of a friend. He particularly had scaffolding work and had enough financial resources to enjoy his free time. While playing pool, someone in the group suggested he tried poker.
He went for it, and guess what? He now found his new obsession – poker.
He mostly played SnG's online at PartyPoker and won a lot of money. In a short span of time, he was able to grow his bankroll financially. But the thing is, he became very hooked to it, that he would go to work and still think about playing the game.
Later, he would find himself running a plumbing business with the help of a friend who loaned him £10,000. After investing in tools and a vehicle, there was some money left from that. Instead of letting it sleep in the bank, he decided to gamble it through poker. The £3,000 excess money turned into a £20,000 winning, so he immediately paid off the loan and he still had some extra to use for himself.
But, it wasn't all good things for him. He had several losses, some of them even covered by his dad. Sam wasn't the kind to sit back.
He wanted to go full-on with poker because he thought there was just so much potential financial growth in the industry, and he wanted to see the effects real fast. After promising his dad he won't gamble again, he got back into the loop just after 3 days.
At one point, his dad got tired of covering his dues after losing so much money on the game. So, he decided to build up his bankroll, paid his father for the money he owed, and went on to chase the dream.
At first, his family didn't agree with the young Sammy, but later on, they just supported him. I guess there wasn't much of a choice there since Trickett was very adamant about pursuing the career.
Right now, he has become one of the most famous poker players of his generation. It was as early as 2005 when he first played the game seriously. Shortly after playing here and there, he got his major break during the 2008 WSOP $5,000 NLHE. He ranked 4th and brought home a cash prize of almost $250,000.
Then, just a month after that victory, he also won $215,000+ during the Grosvenor Poker Tour main in the UK. Then in 2011, he got 2 major winnings again, and this time, each of the prizes was amounting to at least a million dollars.
Over his poker lifetime he's played with well-known high rollers like Daniel Negreanu, Patrik Antonius, Jason Koon, Bryn Kenney (alleged cheater), Scotty Nguyen, Alec Torelli, JRB, Phil Galfond, Scott Seiver, Doug Polk, Rick Salomon, and many others.
Check out the Sam Trickett documentary film below. Supposedly "High Stakes, The Story of Sam Trickett" is supposed to be on Netflix, but I personally was only be able to find it on YouTube. Enjoy the film below:
---
$1 Million Big One for One Drop
Of course, Sam didn't start his career as a high-stakes player. After having lost his initial bankroll, he struggled to finance his poker activities.
But as his career began gaining traction, he started playing super high-stakes events, just like the most talked about $1M Big One for One Drop in 2012. Imagine having to pay £1M+ just to participate in the game? That's pretty crazy, but these high rollers are up for the thrill.
In this event, he played against poker legends like Antonio Esfandiari and Phil Hellmuth. At the end of the game, it was Esfandiari who won the grand prize, but Trickett also went home with a whopping $10M+ in winnings after coming in second.
That's really not something you fret about, especially if it becomes your best live tournament win, right?
Because of this major win, Sam topped Hendon Mob's all-time money list in the UK for some time. Not until Stephen Chidwick claimed the title recently.
After becoming a runner-up at the controversial 2012 high roller event, PartyPoker made Trickett their ambassador and there are two special rooms named after him; one in Nottingham at Dusk Till Dawn Poker Club and one on a virtual platform.
---
Personal Life
Originally, Sam Trickett was bound to marry his then long-time girlfriend Natasha Sandhu.
However, almost 2 years into the engagement, the couple called it quits saying they've grown apart. Based on reports, it seems like they had a mutual understanding in breaking up the engagement. But two years later, this high-stakes roller went to marry his latest girlfriend, Mieke Dockley.
In 2021, Sam decided to lay low in the poker scene since he wanted to focus on becoming a good dad to their newborn child – Bodhi Blu. He even announced via Twitter that he wants to take some time off as an ambassador of PartyPoker so that he can enjoy more time with his family.
---
Sam Trickett Net Worth
Being a high-stakes player doesn't guarantee you'll have a good net worth.
Though your winnings are big, losses might be as much, because that's just how gambling/poker goes. Luckily for Trickey, he has a net worth any player dreams of having. Right now, he is valued at $30M+.
Most of his net worth came from his winnings during 2012 $1M Big One for One Drop. The rest of the other winnings are accumulated over the years of his career. Knowing that he has had several 7-figure winnings, it's not that hard to believe he is as rich as he is.
His total live earnings are now at $21,808,828 and out of that total, here are the top 5 WSOP cashes he ever had:
2nd place 2012 43rd Annual WSOP – $10,112,001
1st place 2013 Aussie Millions – $2,111,397
1st place 2011 Aussie Millions – $1,525,000
2nd place 2011 Aussie Millions – $1,493,736
1st place 2011 Partouche Poker Tour – $1,346,671
So, do you think Sam Trickett can still outrank Stephen Chidwick in the all-time money list for UK players? Do you think his hiatus would affect his poker skills when he comes back? Let us know your thoughts in the comments below!