---
(Featured image: courtesy of WPT)
So, who is JRB in poker?
Jean-Robert Bellande is an American poker player who was born in Long Island, NY. Aside from professionally playing cards, he is popularly known as a contestant in a reality TV show – Survivor (just like Garrett Adelstein).
This man became really popular when he was cast to be on a televised poker show for the WSOP Circuit Event in 2005. Many people noticed how aggressive Jean-Robert played, and at the time it was pretty unusual. With a little bit of luck and skill, he was able to finish 3rd to Jennifer Harman and Doug Lee at the said event.
If you check out JRB's tournament records, there isn't much to tell. Why? Because this man is fond of cash Hold'em games. However, he has won 1 WSOP bracelet so far.
| | |
| --- | --- |
| Full Name: Jean-Robert Bellande | |
| DOB: September 17, 1970 | |
| Birthplace: Long Island, New York | |
| Profession: High stakes poker player, TV personality, entrepreneur | |
| Wife: Veronica Llamas | |
| WSOP Bracelets: 1 | |
| Net Worth and Career Earnings: $5+ Million | |
Disclaimer: This is a question that no one can answer with 100% certainty except for Jean-Robert himself. We can only assume his approximate net worth based on various sources that we've read/heard about and the usual stakes he plays.
---
Jean-Robert "Action Bob" Bellande Bio
JRB was born in Long Island, New York on September 17, 1970.
His parents are originally from Haiti but later immigrated to the States. But, he wasn't raised there. Instead, they moved again to Taiwan in 1975 and Jean spent most of his childhood there.
The Bellande household lived a decent and comfortable life, and Jean-Robert was raised in a Christian home. This is because his mom was a missionary for their religious organization, which also prompted them to move to Taiwan.
After 13 years in Taiwan, the family decided to move back to the US. Then, Bobby went to college at Azusa Pacific University, where he got a degree in Marketing.
Because they quite moved from place to place when JRB was still young, he was able to learn 3 different languages – Mandarin, French, and English.
As for his personal life, there isn't much information.
Most of the things can only be assumed based on his Instagram profile @BrokeLivingJRB. For example, that he is a loving man to his now wife Veronica Llamas, who gave birth to beautiful twins on June 2019.
---
Poker Career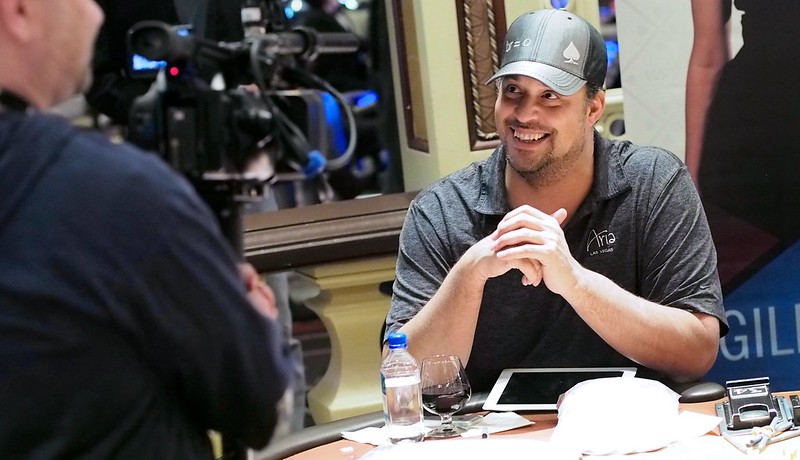 We all know how poker players experience ups and downs throughout their entire careers.
But, there are people who often end up in either extreme ends of the spectrum – win big, lose big. Robert is one of the most notorious players when it comes to that department.
Unlike other players who started so young, Bobby's exposure to the poker world didn't happen until he was in college. Back then, he earned a few bucks playing pool and poker, but didn't take it seriously at that time yet. Instead, the main focus was on getting his diploma.
Quickly after college, JRB became a club promoter in California.
However, it was only in 1998 that his interest in poker seriously manifested, and it wasn't even intentional. JRB was playing pool in Hard Times and won a $5k cash prize. Shortly after that, he enjoyed several blackjack games at Bicycle Casino and managed to grow his bankroll to a hefty $25,000!
Then, Bellande decided to play a mixed poker game where he experienced losing a little over half his earnings during the night. But that didn't stop him from wanting to play the card game.
Instead, he got hooked on it and played more.
During the early parts of his career, Jean-Robert played high stakes and kept losing money. It could be a mixture of bad luck, being inexperienced, and being aggressive which led to the series of losses.
But over the course of 3 years, he was able to turn the tables around and was able to make money from it so "Action Bob" quit his day job to pursue poker professionally.
It wasn't until 2005 that JRB got his big break in the industry.
Jean-Robert joined a televised WSOP circuit event where he landed third place. He competed against other popular pros like Jennifer Harman and Doug Lee. He became instantly famous because of how aggressively behaved at the poker table, both in action and in words.
Because of his habits on the felt, where he was winning and losing regularly, Bellande got the nickname "broke living". This also has reference to his luxurious spending habits both on and off the table.
Then, JRB got his first and only (so far) WSOP bracelet in 2018 by playing in a $5,000 NLHE Six-Handed poker game. Here, he was able to cash out a whopping $616,000+ prize. At the moment, his total recorded live tournament winnings are close to $3 million.
Over his poker lifetime, he's played with high rollers like Phil Ivey, Daniel Negreanu, Bill Klein, Tom Dwan, Garrett Adelstein, Alan Keating, Wesley Fei, Eric Persson, just to name a few.
Jean-Robert often plays with the aforementioned players in televised high stakes games hosted by PokerGO, Live at the Bike, and Hustler Casino.
According to trackingpoker.com, he won over a million dollars in Hustler Casino in August 2022 alone!

Pretty wild!
---
JRB on Survivor
Now, you may have heard about Jean-Robert Bellande on Survivor reality TV show.
That is true. He is one of the few known poker players to have participated in the 15th season of Survivor, which took place in China and was aired in 2007.
In this series, JRB has always been the aggressive type who speaks his mind. This caused several disputes among his Fei Long tribe members.
Because he constantly received votes during the tribal council, it wasn't long before he was voted out. He finished 9th among the 16 participants.
Now, if you are a fan of poker and this TV show, you'll likely know that top cash game crusher Garrett Adelstein also was on Survivor.
Besides G-Man, Anna Khait, Jim Rice, Ronnie Bardah also were on the show. And Fatima Moreira de Melo actually won the European edition of it. How awesome is that?
By the way, you can watch your favourite poker players participate in Survivor on Amazon Prime.
---
Jean-Robert Bellande Net Worth
It's a bit hard to determine how much exactly JRB's net worth is for a variety of reasons.
One, he loves playing cash games and it's not that easy to track every winning. Second, because of his aggressive gameplay, his earnings fluctuate quite regularly.
But, considering that he often buys in for $100K on PokerGO, Hustler Casino, and Live at the Bike livestreams, and made over $1,000,000 in August 2022 alone, we can safely assume his net worth to be more than 5 million dollars.
Part of that net worth comes from these tournament cashes:
2nd place 2015 WSOP $50,000 Poker Players Championship Six Max – $784,828
1st place 2018 WSOP $5,000 NLH Six Max – $616,302
3rd place 2005 WSOP Circuit Event Rio Las Vegas – $210,900
2nd place 2008 39th Annual WSOP Event 53 – $173,564
1st place 2005 Winnin' o' the Green – $148,000
Some sources say that also owns a night club, and possibly might have crypto investments and real estate properties as sources of wealth.
Now, I'd like to hear from you:
Do you know any more facts about Jean-Robert Bellande? Have you watched his best poker sessions? Share your thoughts in the comments section below!