---
(Featured image: courtesy of WPT)
Being a national athlete means rigorous training sessions and consecutive match schedules. It's hard to imagine them thinking about things other than their sport. But Fatima Moreira de Melo is one of the few who really excels well in the field and on the felt.
Fatima is a former Dutch hockey striker and a pro poker player as well. During her entire career in sports, she has represented the Dutch national team 191 times. She is also an Olympic gold medalist and a world cup champion. Her track record is spotless and she will always be one of the best hockey players for the Dutch team.
But that's not just everything there is to her. She's also a TV host, a jeweler, model, and she even won Germany's very own Survivor show. Isn't that what you call a Superwoman?
(By the way, Garrett Adelstein is a Survivor contender as well. And Garrett's post Survivor life is also interesting.)
| | |
| --- | --- |
| Full name: Fatima Moreira de Melo | |
| DOB: July 4, 1978 | |
| Birthplace: Rotterdam, Netherlands | |
| Profession: Former Dutch field hockey striker, pro poker player, model, jewelry designer, TV personality | |
| Boyfriend: Raemon Sluiter | |
| WSOP Cashes: 9 | |
| Net Worth & Career Earnings: $19+ Million | |
---
Fatima Moreira De Melo Bio
Like Lex Veldhuis, Fatima is also Dutch. She was born in one of the Netherlands' largest cities – Rotterdam. Her parents named her after a popular pilgrimage site.
Both parents Justiniano, of Portuguese descent, and Willy who is Dutch raised her as an only child. Her mixed ancestry allowed Moreira to embrace a diverse culture and skillset, molding her into the superstar she has now become.
De Melo has always been a talented child.
At the age of six, she started playing hockey. At that very same age, she already knew how to speak two languages, mainly because she was raised by parents who speak Dutch and Portuguese.
You might think it comes naturally for a child to do that while living with the diversity under one roof, but it takes a special gift and talent to master it at an early age.
When she turned 12, she started officially joining hockey competitions. She also participated in the national youth eliminations and three years later, she was able to compete for the Ladies 1 of HGC and became the champion, not only once, but twice.
Shortly after that, she was selected to become part of the Dutch national team, and that's where she started gaining so much fame.
---
Life as a Field Hockey Striker
Once she became part of the national team, Fatima showed not only her skills but also her determination to be the best player.
And good enough, her efforts did not end up in vain. She became vice-captain of the team. Plus, many sponsors are lining up for her to endorse their products. De Melo's most famous TV ad was with Rabobank – representing them for 3 years.
Fatima Moreira's first official match was on October 21, 1997. She represented the Netherlands against Germany, and they were able to win with a 2-1 score.
She was chosen as the Rotterdam Sportswoman of the Year in 2006, which also partly contributed to her winning the deal with Rabobank as their exclusive endorser.
De Melo participated in the 2008 Beijing Summer Olympics and brought home a gold medal after the team defeated China. Throughout her entire career as an athlete for the Dutch national team, she has won 8 gold medals, 4 silver, and 1 bronze.
---
Poker Career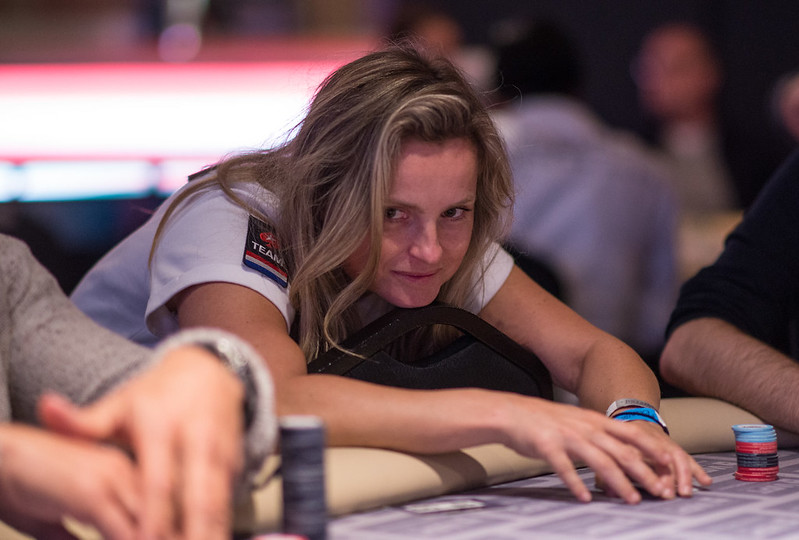 Fatima started playing poker with friends when she was still an active field hockey player. They often played in house games, and the thought of becoming a pro didn't even cross her mind at that time.
When asked in an interview why she transitioned to poker, the former athlete said she has had several achievements doing sports and she felt like she already did her best and that she couldn't become a better player at that point.
Eventually, she got into the card game after retiring from the sports world.
One of the things she loved about poker is how mental it is. She loved how it does not need team effort, but rather an individual play. After being with a team for quite some time, she wanted to experience achieving something on her own, and in poker, she was able to do that.
Just like Daniel Negreanu, Vanessa Selbst, Liv Boeree, Eugene Katchalov, Vanessa Rousso, and others, Moreira became part of the Team PokerStars, specifically 'Sportstars' team.
She has been with the team for a decade, and has represented them in various competitions. On a twitter post, she mentioned she had a great time with the team and that she hopes to see them again at the tables.
Before she parted ways with the Pokerstars, she appeared in episode 5 (season 1) of the popular Shark Cage TV show. At that time, she went against the most competitive players in the industry – Igor Kurganov, Jonathan Duhamel, Griffin Benger, and a new mom Zuzana from Slovakia.
During the entire show, you can see how calm and cheerful Fatima is. It shows how confident she is in playing on the felt despite being faced with opponents who are known to be high rollers, especially Igor.
She also appeared in season 2 of Shark Cage where she played against Andre Akkari and Ronnie Bardah (who was epically bluffed by Sara Chafak in Season 1).
Although she doens't have a WSOP bracelet yet, she has had several cashes already. According to Hendon Mob, she ranks 51st on the Netherlands all time money list.
---
Personal Life
Fatima openly admitted that she is romantically involved with the tennis player Raemon Sluiter.
De Melo has a post-graduate Master's degree in Criminal Law from Erasmus University Rotterdam. Ever since, she has not only been gifted with talent for sports, but she is also good in school. Her ability to focus is her biggest asset.
If you think that's all she can do, well, you're definitely wrong.
She also has a career in singing and has sung International Year of the Youth – the official theme song for Int'l Hockey Federation during that 2001 World Cup. Not only that, she also participated in the reality-singing TV show entitled It Takes 2.
---
Fatima De Melo Net Worth & Career Earnings
So, what is Fatima poker player net worth? Right now, De Melo has an approximate net worth of around $19 million.
Only about $500,000 is attributed to poker winnings. The rest of her richest came from being a national athlete, a TV personality, a singer, and a jewelry designer.
Anyway, here are her best cashes in WSOP tourneys:
2nd place 2013 UKIPT Isle of Men – $96,649
9th place 2009 Master Classics of Poker – $48,772
16th place 2012 EPT Barcelona – $42,573
18th place 2017 Pokerstars Championship Prague – $35,400
So, what are your thoughts about the multi-talented Fatima Moreira De Melo? Are you impressed with her poker skills? Or would you rather see her on the hockey field? Let us know your thoughts in the comments section below!