---
(Featured image: courtesy of WPT)
It's not every day that you see a lady player on the professional poker tables and a legendary one at that. Liv Boeree is among the few women who dominated the entire industry, not by their looks, but with their insane skills on the felt.
She is not only good at card games but also at academics as well. As a self-proclaimed nerd, Liv enjoys talking about astrophysics.
In fact, after officially retiring from the game, she dedicated herself to providing inspiration to people who want to learn more about science. She is an educator and often conducts educational talks on various scientific topics.
But before all that, she was a living legend in the industry having bagged both WSOP and WPT championships. She is the only female poker player to ever achieve this.
It's a bit sad knowing she doesn't play as much as she did before, but we gotta admit that what she is doing now as an inspirational speaker is equally amazing too.
Full Name: Olivia Boeree
DOB: July 18, 1984
Birthplace: Kent, England
Profession: Pro poker player, educational speaker, former PokerStars ambassador
Boyfriend:

Igor Kurganov

WSOP Bracelets: 1
Net Worth & Career Earnings: $4+ million
---
Olivia Boeree Bio
Olivia was born and raised in Kent, a rural area in the southern part of England. As a child, she already had passion for science, astronomy in particular.
She had good grades to back it up (a consistent A-lister), so it was not surprising to know that she pursued a degree in astrophysics at the University of Manchester. She got the diploma with flying colors in 2005, having a GPA of 4.0!
When she was in college, she did several gigs to help pay off her student loan and support herself somehow. This included playing as the lead guitarist of a band called Dissonance, engaged in heavy metal music. She also did some modelling on the sides for Alchemy Gothic.
Her passion for music led her to London. She wanted to pursue music as well after getting her degree in physics. But, she came across a gameshow which promised the winner a sum of money in exchange for displaying their skills in deception.
Hoping that it would cover her student loan, she immediately signed up for it. Little did she know, that gameshow was the ticket to her poker journey.
---
Poker Career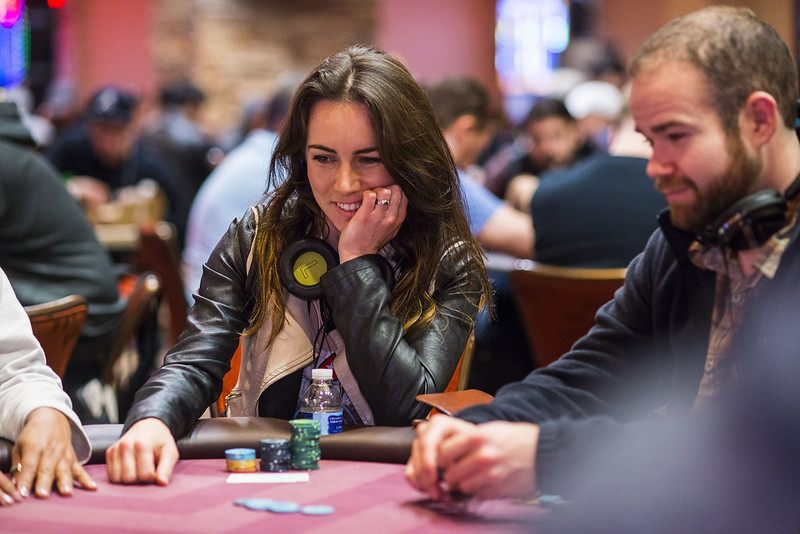 In the gameshow, they were taught how to play poker. She didn't win the show, but she did find the game appealing and interesting. So, she pursued a professional poker career instead. At the same time, she became a TV host. She was also a member of the Pokerstars Pro team and she was with them for about 9 years.
She first started gaining fans when she won the European Ladies Championship game in 2008. However, the turning point of her career was when she became the champion for the EPT in Italy in 2010. She bagged home a prize of €1,250,000 and has become famous for being the third female champion in EPT.
Boeree is also a three-time title holder as the Female Player of the Year (2014-2016) for the European Poker Awards. It was during 2017 that Liv got her one and only WSOP bracelet after winning alongside boyfriend Igor at the Tag Team No Limit Hold'em Championship event.
Just like Daniel Negreanu, Vanessa Rousso, and Vanessa Selbst, she also became a PokerStars ambassador in 2010 and remained to be one for several years. But in 2019, Liv and Igor Kurganov (her boyfriend) decided to part ways with PokerStars.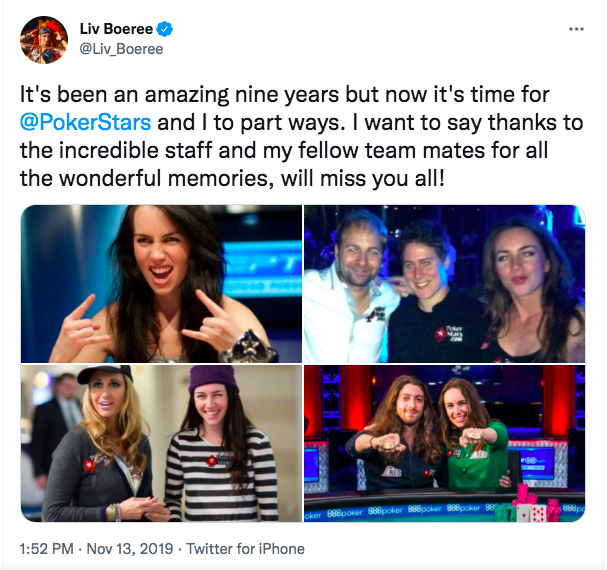 ---
Personal Life
Olivia has been living a full life even outside of poker. After she announced her retirement, she focused on being an educational speaker and TV host. She was part of "The Mind Control Freaks" show, and also the "MindGamers".
Aside from that, she also created a charitable organization named REG (Raising for Effective Giving). She collaborated with other pro players to fund the org and they were eager to raise awareness about altruism.
Later on, her boyfriend Igor Kugranov, joined the group and together they continued giving back to the society after winning matches.
---
Liv Boeree Net Worth
The combination of her live tournament winnings, TV show earnings, and income as a speaker/author, Olivia's net worth is estimated to be around $4+ million.
To date, here are her top 3 cashes:
1st place 2010 Pokerstars.com EPT San Remo (S6) – $1,673,443
3rd place EPT Season XII Estrellas Barcelona – $453,560
1st place 2017 WSOP Tag Team No Limit Hold'em – $136,982
So, do you have any other interesting facts about Liv Boeree? Feel free to share them in the comments section below!