---
(Feature image: courtesy of WPT)
For those of you who have seen televised poker games, you are probably familiar with Kara Scott.
She is a very popular TV personality who hosts poker game shows. Not only that, but she is also one of the most popular female players in the industry. Having both beauty and insane card skills, that's not hard to achieve.
Kara is also an ambassador for the online website 888poker. Plus, she also has several podcasts where you can hear her converse with famous pro players and celebrities.
She is really well-known for her hosting skills at High Stakes Poker on GSN. And, she was also invited to cover a game for ESPN, a global channel for sports.
| | |
| --- | --- |
| Full name: Kara Scott | |
| DOB: August 11, 1977 | |
| Birthplace: Alberta, Canada | |
| Profession: TV host, pro poker player, journalist, actress | |
| Husband: Giovanni Rizzo | |
| WSOP Cashes: 4 | |
| Net Worth & Career Earnings: $13+ million | |
---
Kara Scott Bio
Kara was born on August 11, 1977. She spent her childhood years in Alberta, Canada. Despite being so popular, she has managed to keep her past away from the limelight. But in a podcast for Pokernews, she shed some light on what it was like living in Alberta back then.
Scott mentioned that she had a different childhood compared to what was essentially normal for kids her age during that time. Turns out, they lived a somehow difficult life. During the talk, she mentioned that they didn't have indoor plumbing amenities and that it wasn't until she was 14 that she experienced having an indoor toilet.
Looking back, Kara recalled that her parents had decent jobs in the city, where she was really born. But then, both of them realized urban living isn't for them.
Her mom and dad decided to sell everything, even their house and went on to live in a camper – mobile living. Back then, she had two other siblings and one pet dog. The six of them lived their lives traveling places with the camper as their safe haven.
The TV host remembered how hard it was for her to live that way in the beginning since she was still very young. Luckily, her dad brought up the idea of settling in a place and Alberta was on top of their list since he had fond memories of the place.
They bought undeveloped land in the locality and turned it into farmland. They raised cows and chickens, planted crops, and stored their produce in DIY underground storage. Scott said it was a unique way of growing up and she somehow ended up picking the traveling genes of her parents.
She graduated from the University of Calgary with two bachelor's degrees – teaching and language. Since the family had an average financial capacity back then, she had to work part-time while studying at the university, particularly as an athlete dorm maid.
Scott once moved to London to pursue teaching. But, lady luck wasn't at her side back then. She ended up getting bullied by her students, even physically harming her. Later on, she decided to get into media, and that's when everything started falling into place for this Canadian TV host.
---
TV Hosting Career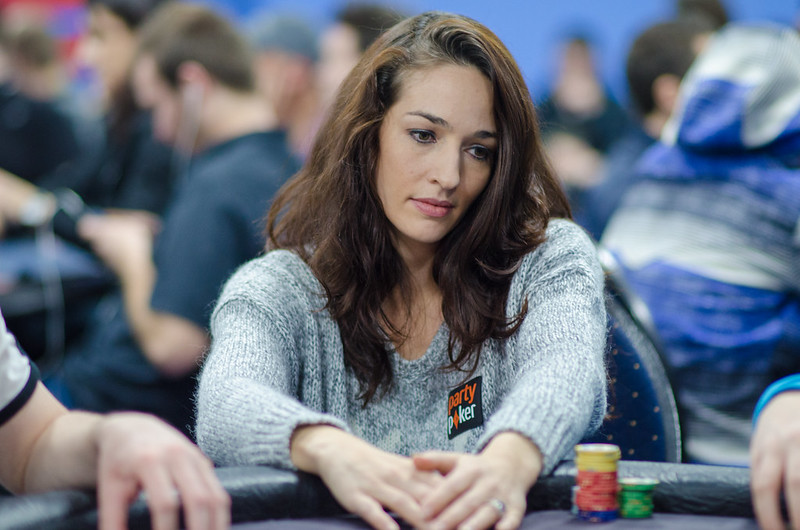 Kara got her break when she was selected as the host for the first-ever televised High Stakes Backgammon in 2005. The following year, she was also invited to cover the pilot show for the World Series of Backgammon. This show was available for viewing on major TV networks like Poker Channel EU, Eurosport, and Game TV CA.
Because of her very professional and exceptional performance as a host, the producers of Poker Night Live and Sky Poker (both are popular TV poker shows) offered her some hosting gigs. Shortly after, she has become a famous presenter in the entire industry.
You might also find interesting that Negreanu's wife Amanda Leatherman also was a host for a popular PokerStars TV show "The Big Game".
Scott's genuine interest in poker was evident in her presentations. She even had a column in Flush magazine and had a bunch of articles written for CardPlayer Magazine, PokerNews, and Poker Player Magazine.
Fast forward to 2010, she ended up hosting High Stakes Poker Season 6 by Game Show Network. This is where her fame skyrocketed. And as if that's not enough of an achievement, this Canadian host took over a reporting gig for ESPN's WSOP 2011 coverage for the main event.
---
Poker Career
Believe it or not, Kara didn't have experience playing poker before she was invited to host the 2006 World Series of Backgammon in Monte Carlo.
After being exposed to the game numerous times, she easily fell in love with it and started playing. Her skills were noticed by some big names in the industry, which made her land poker hosting gigs. And just like that, she began playing more and more on the felt.
She had her first official tournament in 2007. She finished 6th place during the PartyPoker.net World Women's Open tourney. She took home a decent sum of $5,000.
However, her first over-$100k live cash winning milestone was achieved only in 2009. This time, Scott ranked 2nd during the PaddyPower Irish Poker Open held in Ireland (Dublin). She took home an equivalent of $415,000 cash.
As for WSOP, Kara still doesn't own a bracelet, but she was able to cash 7 times already.
This poker queen also participated in some of PokerStars' TV shows, like Shark Cage where she played against Sara Chafak, Ronnie Bardah, Ole Schemion, Mike Tindall, Griffin Benger, and Vicky Coren Mitchell.
(Check out the video above how Kara Scott dominated the table and busting out everyone from the Shark Cage tourneys.)
---
Personal Life
Scott is married to Giovanni Rizzo in 2014. They had been engaged in 2013 and decided to tie the knot the following year, in May particularly. Before they got married, the couple already shared a house. A year after the wedding, they moved to Slovenia and settled there.
---
Kara Scott's Net Worth
Kara Scott's net worth didn't come from playing poker alone.
Knowing how much exposure she has in TV shows, her riches are expected to be celebrity-level. True enough, her net worth is estimated to be around $13+ million.
If you are curious as to how much of that sum can be attributed to poker, here are her top WSOP cashes to give you an idea:
2nd place 2009 PaddyPower.com Irish Open – $415,381
104th place 2008 39th Annual WSOP – $41,816
238th place 2009 40th Annual WSOP – $32,963
17th place 2013 44th World Series of Poker – $18,700
22nd place 2013 WPT Prague – $10,608
So, have you watched any televised poker game hosted by Kara Scott? Do you think she plays as well as she presents the games on TV? Let us know your thoughts in the comments section below!