---
(Featured image by Tambet Kask with Unibet Open)
They say you can't have it all, but is that really applicable for Sara Chafak as well?
She is a beauty queen who represented Finland during the Miss Universe 2012. She got both beauty, brains, and even some outrageous card playing skills no pageantry fanatic would have ever imagined.
As a former beauty queen who won Miss Finland in 2012, it came as a bit of a shock that she was fond of playing on the felt. As a title holder of a prestigious pageant, one would think she is focused on fashion, physical appearance, and such. But there's more to Sara than that.
In fact, she has gained so much popularity in the poker industry because of her fearless bluffs and sportsmanship.
It was her then-boyfriend who introduced her to the game when she was 19. She instantly fell in love with not only its gameplay, but the psychology that comes with it. Now, she is conquering poker tables like no other.
| | |
| --- | --- |
| Full Name: Sara Yasmina Chafak | |
| DOB: October 25, 1990 | |
| Birthplace: Helsinki, Finland | |
| Profession: Model (former Miss Finland), singer/songwriter, actress, professional chef, poker player | |
| Boyfriend: Jeffrey Lawman (TV personality) | |
| WSOP Bracelets: N/A | |
| Net Worth & Career Earnings: $1.5+ Million | |
---
Sara Chafak Bio
Sara is half-Finnins and half-Moroccan. Her mother is of pure Finnish decent and they say she got her brains from her. Sara is popular for being objective and thoughtful, traits that her mother also possesses.
(By the way, one of the greatest players Patrik Antonius is also Finnish.)
On the other hand, her father is Moroccan and those who knew them personally would often say she got her looks from him. Lucky her, she got both the looks and brains, making her a perfect fit for pageantry.
She has three brothers and one sister and they grew up together.
Other than this, there is no other information about her family life. But that's not a problem. You can get to know her more through her social media accounts. She's active particularly in Instagram.
Anyway, when she was still studying, she was so fond of learning new languages.
Even then, she already knows how to speak at least 5 languages. This is not an easy feat, honestly. Learning even just one foreign language is hard enough, how much more when you're doing five? Phew!
She went into a business school in Estonia for college where she majored in International Marketing.
---
Poker Career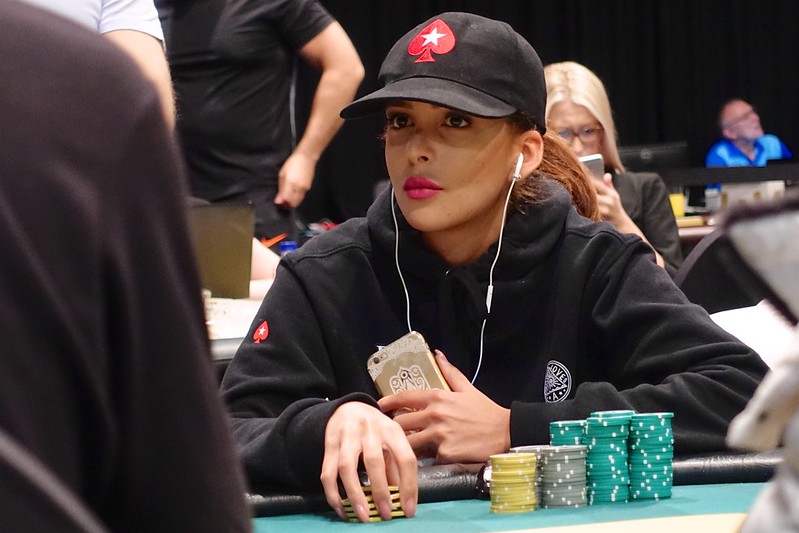 Chafak got exposed to the poker world by her then-boyfriend. She was still 19 years old when she started participating in small-time leagues. Since she was more focused on pageantry then, this hobby was not well cultivated.
After a few years when her term as Miss Finland ended, she decided she wanted to pursue a professional poker career and started playing in live tournaments, even televised ones.
Later on, PokerStars has likely approached her for a brand/sponsorship deal, since she's been seen wearing badges and clothing pieces representing PS.
(However, she wasn't an official PokerStars ambassador like Vanessa Rousso, Daniel Negreanu, Liv Boeree, Eugene Katchalov, Vanessa Selbst, or other pro players.)
Though she has yet to get her poker career breakthrough in terms of winnings, she became really popular when she went against pro player Ronnie Bardah (who has cashed in 5 consecutive WSOP main events) in an episode of Shark Cage.
This is a show produced by PokerStars. The clip even went viral because of the incredibly s stunt she pulled on Ronnie. So here's how it happened…
When the rest of the players decided to fold, it was all down to Sarah and Ronnie.
At that time, Ronnie had the best hand, but Chafak went all in to recklessly bluff. Bardah was lost for words and he could barely believe she was willing to bet all her chips on that deal.
Ronnie believed he had the best hand, which he really did, and even showed everyone his cards. But Sara was unfazed, leaving the pro player to believe she had better cards. After a lot of thinking, Bardah finally decided to fold, and hence, the bluff queen was born.
Here's the viral clip of Chafak's most reckless bluff:
She first appeared in Shark Cage's Season 1 Episode 7 with players like Ronnie, Eugene Katchalov, "Action Bob" Bellande, and Kara Scott (who ended up busting her in the end).
After this epic bluff by Sara, Ronnie still made a return to the show in season 2 where he played with Andre Akkari and Fatima Moreira de Melo.
She also participated in the second season of Shark Cage, where she played with Maria Ho, Theo Jorgensen and Isaac Haxton.
---
Other Activities
Before getting serious with poker, there are several other things she was busy with.
She was casted as one of the celebrities to participate in the show called Dancing on Ice. Each participant is paired with a professional who trained them as well. Sara and her partner Sasha Palomaki ended up getting the 3rd place.
Aside from that, she also debuted as a rapper in 2014. That's something you'd least expect from a former beauty queen, but she's slaying it.
---
Sara Chafak Net Worth
Right now, the estimated net worth of this goddess-turned-poker-bluff-queen is at $1.5+ million.
This figure mostly comes from her modelling career and TV guestings/appearances. It could also include potential PokerStars brand deals (since she was wearing PS badges and caps).
We don't have a lot of information about her poker winnings, except perhaps some live cash games that aren't recorded in cardplayer.com or other poker tourney recording sites.
Do you know any other interesting facts about our fearless poker babe? Please feel free to share them in the comments section below!