---
(Featured image: courtesy of WPT)
Female poker players are really interesting.
Since there aren't so many of them, they often take the spotlight during tournaments. Maria Ho is one of them. She is a half-Taiwanese-half-American professional poker who also happens to be a TV personality.
Because of her amazing poker skills, she has become a nominee for the Women in Poker Hall of Fame. To date, her total tournament winnings already exceeded $4 million. This is such a feat for a young woman like her.
She might not have won a WSOP bracelet yet, she is dubbed as "the last woman standing" in various World Series of Poker main events. She also made it to a lot of final tables in WPT events, and many fans believe that her breakthrough is just right around the corner.
| | |
| --- | --- |
| Full Name: Maria Ho | |
| DOB: March 6,1938 | |
| Birthplace: Taipei, Taiwan | |
| Profession: Pro poker player, TV host, spokesperson | |
| Boyfriend: Rainer Kempe | |
| WSOP Cashes: 66 | |
| Net Worth & Career Earnings: $4+ million | |
---
Maria Ho Bio
Maria was born in Taipei, Taiwan. But, she grew up in the states since their family moved to Los Angeles, California. Despite being raised in the US, she is very fluent in Mandarin, well of course, she grew up in a traditional Chinese family.
Ho's early life wasn't always rainbows and butterflies. Just like other teenagers, she hustled to keep herself afloat during her college years (financially). She worked several part-time jobs to support her student life and of course her poker hobby back then.
She tried waiting tables, cleaned bathrooms, and even became a sales assistant at Nine West. She isn't ashamed of all these and during interviews, she would always reminisce the experiences she had which somehow made her become who she is today.
Before completely pursuing a professional poker career, she dreamt of becoming a professional singer. In fact, she auditioned for Americal Idol Season 3 and got in. She wowed the judges with both her voice and looks. She was able to make it up to the Hollywood Week round, but unfortunately didn't make the cut after that round.
Her first encounter with poker was when she was in college. After playing a couple of games with her friends, she easily fell in love with the game. According to her, the pyschology behind the game amazed her and it made the game even more interesting for her.
While Ho was in college, she started playing the card game. Since she was associated with the Lambada Phi Epsilon fraternity when she was in University of California San Diego, her frat brothers taught her about the game and that's how it all began.
But despite that, she was still able to maintain her academic standing and later graduated in 2005 with a major in Communication and minor in Law degree.
---
Poker Career
While she was in college, she was starting to build her bankroll by playing at low stakes poker tables. But after graduating, she mustered the confidence to play high stakes games.
Shortly after she saved up enough funds, she decided to pursue a professional poker career, and that was probably the boldest and best move she made during her younger years.
Her first major accomplishment was during the 2007 WSOP main event where she became the last woman to be on the final table. She got the 38th place and was able to bring home a total prize of $237,865.
In 2014, she ranked 77th again in the WSOP against almost seven thousand players. And in 2011, she also survived as the 27th placer during the WSOPE event.
Throughout her poker tournament life, Maria has played (and is friends with) legends like Daniel Negreanu, Phil Hellmuth, Antonio Esfandiari, Gus Hansen, Jennifer Harman, and many others.
She also was featured in several Shark Cage episodes by PokerStars, where she played with a 2 time EPT champion Victoria Coren Mitchell, Patrik Antonius, Gus Hansen, Sara Chafak, Theo Jorgensen and Isaac Haxton.
---
Personal Life
Right now, there have been no reports about Maria's dating life.
There's only limited information about her family life as well. But it is publicly known that she has a sister who is also a TV personality – Judy Ho. She is a popular psychologist as well.
That's pretty much all we know about her personal life. Even though her Instagram seems as if she were single, within the poker world it's known that she's with the German player, Rainer Kempe.
---
TV Appearances and Hosting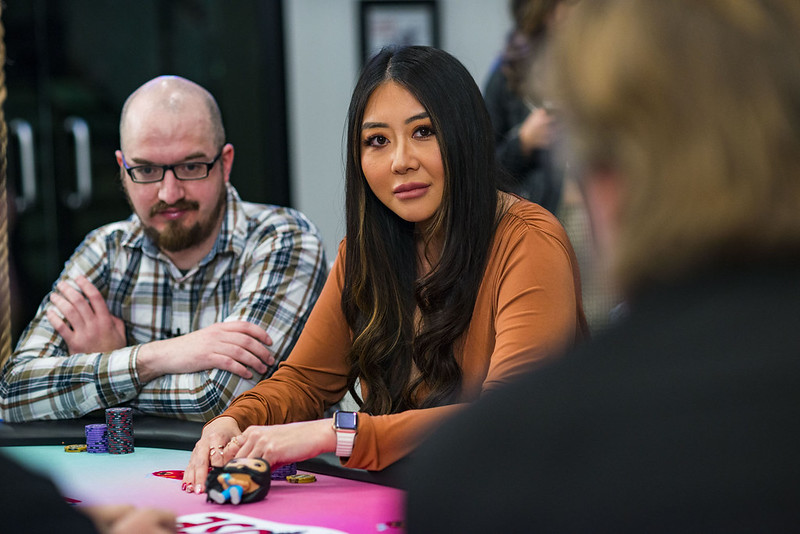 Ho appeared in The Amazing Race Season 15 and American Idol Season 3.
Aside from this, she is also a very popular commentator for poker games. She has been invited as a co-host for many poker events due to her very bubbly and enthusiastic personality.
Her full understanding of the game makes her a very effective host/commentator during WPT and other major events.
Recently she appeared in Steve Aoki's Playhouse poker event, after he became a WPT ambassador! Tony Dunst and Phil Ivey were also there.
---
Maria Ho Net Worth
Right now, Maria's net wort is estimated to be around $4+ million.
Though her updated tournament winnings are well over $4 million, she also incurred several losses along the way so this is a fair estimate. Also, this includes income from other sources like TV hosting/guestings.
I would also assume more than that because Maria plays high stakes cash games, and those are generally not recorded in the sites like HendonMob whatsover.
Here are some of her biggest cashes up to date:
2nd place 2011 42nd Annual WSOP – $540,020
3rd place 2019 WPT Seminole Hardrock Poker Showdown – $344,960
1st place 2018/2019 WPT L.A Poker Classic – $276,690
So, do you know any other interesting facts about our Asian poker beauty Maria Ho? Share them in the comments section below!