---
(Featured image: courtesy of WPT)
Being able to host games and tournaments entail a lot of knowledge and skills in that field. Luckily, Tony Dunst is an expert in playing poker and presenting it as well. He is of American descent and has been actively engaged in both online and live tourneys since 2003.
More than being a player, he is popularly known as a great commentator for WPT events. Tony has a knack for making the game more exciting than it already is. It takes a certain level of mastery to be able to do that.
Having played countless times over the last two decades, being a commentator might be the most natural thing to do for him. Phew!
| | |
| --- | --- |
| Full Name: George Tony Dunst | |
| DOB: October 17, 1984 | |
| Birthplace: Milwaukee, Wisconsin | |
| Profession: Professional poker player, TV commentator | |
| Wife: N/A | |
| WSOP Bracelets: 2 | |
| Net Worth & Career Earnings: $5+ Million | |
Disclaimer: This is a question that no one can answer with 100% certainty except for Tony himself. We can only assume his approximate net worth based on various sources that we've read/heard about and the usual stakes he plays.
---
George "Tony" Dunst Bio
George Dunst was born in Milwaukee on October 17, 1984. He spent his childhood days there until he was six. Then, the family moved to Madison, the state's capital city. Tony spent his teenage years in the same state.
When he was young, George recalled he was fond of playing video games. That experience exposed him to the culture of making money through games on the Internet at a young age. And without knowing then, he was already building a strong foundation for his future career as a pro poker player.
Tony recalled he always played EverQuest as a teenager, which is also a popular multi-player video game. Instead of focusing on the game only, Dunst rather paid much attention to the trading aspect of it.
He made money by selling valuable in-game items to other players who needed them. And guess what? He wasn't trading on the game platform, but on eBay instead. So at a very young age, he was able to build up his bankroll little by little.
The younger Tony preferred earning through online games than being stuck at usual part-time jobs high schoolers get involved in. When he was exposed to online poker, he knew it could be a money-generating career for him in the future.
During the early 2000s, more and more movies with themes about gambling has been released. Being a movie fanatic himself, George all the more thought about what would be his future if he pursues the same career. Without much hesitation, he dived into it and that's probably one of the best decisions he ever made.
He has learned about Blackjack cards by reading Bringing Down the House by Ben Mezrich.
Even before the poker boom, a year before Chris Moneymaker's huge success in the WSOP main event, Tony was already making money online. He humbly started with a $75 deposit and managed to grow it eventually.
It's safe to assume that this early life experience has helped him with properly managing his bankroll when he became a professional player.
---
Poker Career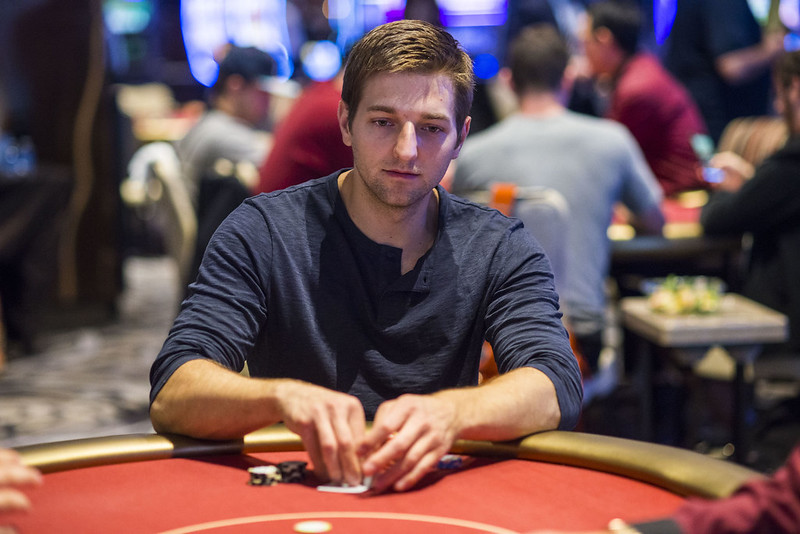 The initial deposit of Dunst in the online poker game has grown into a decent sum, so he used this to get into the Aussie Millions event. That time, he went home with at least $12,000 in winnings.
Then, the player-turned-commentator used these funds to join a study program in Australia. Though technically in school, he spent most of the day playing poker.
In fact, George met his then-girlfriend Celina Lin through the game and they went out. Eventually, he realized school wasn't for him so he quit and went to China to play the card game professionally.
While Tony was there living his best life as a rising pro, he met like-minded players such as Mike Watson, Andrew Lichtenberger, and Mike "Timex" McDonald.
Since they were all geared towards the same goal, these very people, especially Timex and Watson backed Dunst during the entire 2007 WSOP year. As a beneficiary of that kind of support, he did his best by doing his best on the felt and as a commentator.
In 2011, almost all online poker players experienced what's probably the worst day in the virtual poker community. On April 15, 2011 (Black Friday), the US government required the closure of several international online poker platforms. As a result, the money of the players were lost, or frozen.
Unfortunately, Tony Dunst had his winnings spread out among those websites, and what he actually had left after the closure was more or less $2,000.
He was almost broke, but the good thing was that he closed a hosting deal with WPT for Raw Deal. Though that's a ray of sunshine for most, the TV presenter felt he was a failure.
Luckily, he got back up on his feet around 2016 and made a comeback on the felt. This was known as his career year – when everything started falling into place.
He finished 2nd during the Aussie Millions event. A few months later, he was declared as the winner for the WSOP main event, which earned him his first World Series of Poker bracelet.
Dunst has always appeared in several poker TV shows, including the Shark Cage's first season where he played against Jennifer Harman, Lex Veldhuis, Phil Laak, Jason Alexander and an online qualifier (similar to PokerStar's Big Game hosted by Amanda Leatherman, now Negreanu, in the early 2000's).
Recently, he also appeared at Steve Aoki's Playhouse (who is the new WPT ambassador), with Maria Ho and Phil Ivey.
---
Personal Life
Being a celebrity means you have to be ready to have your privacy breached sometimes.
Details about your personal life might be leaked, but in the case of Tony Dunst, that quite didn't happen. His private life has been quiet and there are no mentions about his romantic affiliations as well.
On his Instagram account, what you can see are mostly photos of him at different hosting events with fellow pro players. Other than that, this guy's basically a no-tell type when it comes to private matters.
---
Tony Dunst Net Worth
Considering all factors like tournament winnings, contract deals as TV commentator, brand deals, and online poker winnings, Tony Dunst is estimated to have a net worth of around $5+ million.
Here are his best cashes from WSOP so far:
2nd Place 2016 Aussie Millions – $700,000
3rd Place 2014 WPT World Championship – $452,729
2nd place 2019 WSOP – $374,886
1st place 2016 WSOP – $339,254
2nd place 2019 WPT Aria Summer Championship – $250,265
Now, I'd like to hear from YOU:
Do you like how Tony Dunst comments on official poker tournaments? What are your thoughts about his as a player? Share them in the comments section below!