---
(Featured image: courtesy of WPT)
Living your best life is doing what you love every single day. People like Bradley Owen, probably already achieved this despite being still young. He gets to play poker games professionally, while also enjoying the pleasures of creating video content about the game.
He started his YouTube channel in November 2013. To date, Brad already has over 600,000 subscribers and total views of more than 130M! That already looks like success to me. But it doesn't stop there. He was recently chosen as the ambassador for World Poker Tour alongside Steve Aoki. We'll talk more about that a bit later.
Right now, Owen is more popularly known as a vlogger, but he is also a very promising player himself. You'll find out more about him as you read on.
| | |
| --- | --- |
| Full Name: Bradley Owen | |
| Birthyear: 1988 | |
| Birthplace: Santa Rosa, California | |
| Profession: Pro poker player, YouTuber, co-owner of The Lodge poker room | |
| Girlfriend: Amber Nichole | |
| WSOP Cashes: 14 | |
| Net Worth & Career Earnings: $1.5+ Million | |
---
Bradley Owen Bio
Brad Owen was born and raised in Santa Rosa, California.
Though his early life has never been discussed publicly, we know he had a commercial gig for Pizza Hut when he was still young (4 years old). He was already popular back then because of his charming personality. Then eventually, he was able to make use of this as he grew up.
In an interview by 888 Poker, he mentioned that his father worked in the casino industry, and that's why he was exposed to the game early on.
This played a huge part in who he has become today. He observed how his father studied various games including poker, so he already had a slight idea about poker even during his younger years. But, his passion for the game didn't manifest until he was older.
Owen's father had a CD game called Hoyle Casino, which contains several simulation games. This means, there is no real money involved.
His dad had to learn all this as part of the job, and on the side, he was there watching and getting hooked on Limit Hold'em events. Every time he gets home from school, he would get excited and play the card game virtually, but without real cash involved.
Though his opponents are bots/AI, he still learned a lot through that simulation game. And look where he is now.
---
Poker Career and Co-Owner of The Lodge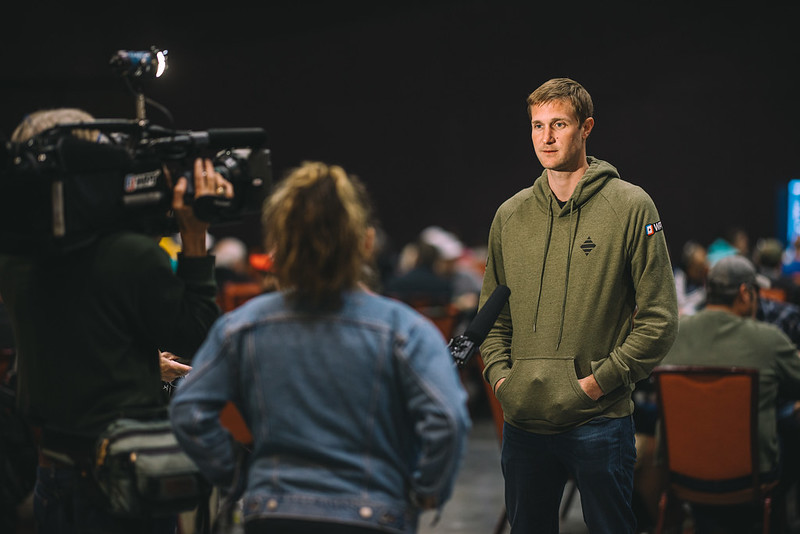 Because he had seen his father play Hoyle Casino for work, Brad along with his brother has picked it as a hobby. So during high school, he played with his sibling and friends. He was happy to have something he could beat his brother with, since growing up, it has always been the other way around.
When he turned 24, he decided to pursue the game professionally. From San Francisco, he transferred to Las Vegas with a $10,000 to his name. With that amount of bankroll, he was able to sustain his gaming career for around 3 to 4 months. But since poker is a gamble, you don't always win. There are times you will lose more than you ever earned.
That's what happened when Bradley decided to move to California with his then-girlfriend. He struggled to make his finances grow. Instead, he lost all that money, bankroll and winnings altogether. He had no other choice but to move back in with his parents. He stayed there for a while and was able to secure an accounting job which kept him afloat.
But, Owen didn't like the job he got and his heart still longs for the felt. So, he strived hard to build up his bankroll again. Once he was able to save up a decent amount, he left his job and went back to playing poker professionally.
Although Bradley isn't the type to indulge in online poker games, when the pandemic hit, he was left without a choice. He started setting aside funds to play poker virtually.
Right now, he was scouted by World Poker Tour to become one of their ambassadors. Many believe that he was offered this position because of his huge following and social media presence. Well, that would really help him fulfill his duties more effectively as the brand's representative, won't it?
And finally, in 2021, Brad Owen, Doug Polk, and Andrew Neeme became majority owners of The Lodge, the largest poker room in Austin, Texas. So if you're ever there, you should definitely check it out!
---
Bradley Owen Poker YouTube
Four years after playing professionally, he decided to create video content about his poker games and uploaded it to his YouTube channel.
If you visit it, you will see most of the vlogs show how he plays low to mid-stakes games with voice overs. Eventually, he moved up in stakes. And like many poker vloggers he analyses his own moves and studies the strategies of his opponents through his vlogs and helping viewers improve too (not just be entertained).
As of May 2022, Brad has over 600K subscribers. Wow!
I believe this success in the poker YouTube space has opened a lot of amazing opportunities for him including becoming a WPT ambassador and becoming a co-founder of The Lodge.
---
Personal Life
Brad is not yet married, but he is certainly dating Amber Nichole. If you came across the vlogger's Instagram, you'd see how lovey-dovey they are in their posts. Looking at the captions, it's like our man is head over heels. And, his fans are very supportive and happy about it.
---
Brad Owen Net Worth
Now, about Brad Owen poker earnings. I know that's what you want to know about! 😉
It's true that he is yet to bag his WSOP bracelet and that his winnings aren't as big as that of Daniel Negreanu, Phil Hellmuth, Phil Ivey, or other poker legends. But, he still has a sizeable net worth of around $1.5+ million, thanks to his YouTube channel and live cash games he's often playing.
Our guess is that his poker net worth is even higher because of the cash games and after he's become the co-founder of The Lodge, the Texas' largest card room.
If you wanna know his standing in WSOP records, here are his top 5 cashes:
587th place 2020 WSOP Online NLH Millionaire Maker $25M – $13,160
133rd place 2020 WSOP NLH Millionaire Maker $5M – $7,064
196th place 2017 WSOP – $6,202
15th place 2022 WPT Choctaw – $5,660
113th place 2018 WSOP – $5,166
So, have you already seen one of Brad Owen's vlogs? Do you like how he plays on the felt? Which content was your favorite? Share it with us in the comments section below!