---
(Featured image: courtesy of WPT)
Igor Kurganov is a Russian professional poker player and also philanthropist. He is a well-mannered multimillionaire, a super high roller, a dangerous opponent and the first among poker pros in Russia.
Together with Liv Boeree and Philipp Gruissem, he was able to create a non-profit organization aimed at giving back to society. The org is called Raising for Effective Giving (REG).
Right now, Kurganov is residing in London.
Full Name: Igor Kurganov
DOB: May 5, 1988
Birthplace: Saint Petersburg, Russia
Profession: Pro poker player, philanthropist
Girlfriend:

Liv Boeree

WSOP Bracelets: 1
Net Worth & Career Earnings: $15+ Million
---
Igor Kurganov Bio
Igor was born in 1988 in St. Petersburg, but 4 years later, the Kurganov family decided that it was time to move to Germany in order to provide the children with a better life. (Which, they succeeded in achieving, by the way.)
Even though he has an accent, he does speak Russian very well.
Igor spent all his childhood and youth in Dortmund, and at the age of 19 he moved to Munich and entered the university. But, like most pros, he didn't finish his higher education.
In the second year, after the first poker victories, Igor quit his studies and in 2009 moved to London, where he is still currently residing and that's exactly where he began to develop as a poker pro. And, surprisingly, his journey started not from online poker, but from offline games.
(By the way, even despite the German citizenship, colleagues refer him exclusively to the team of Russian poker players.)
Igor is considered one of the younger players in the industry. His early life hasn't been publicly discussed and we know very little about his personal life except for the fact that he's Liv Boeree's long term boyfriend.
---
Poker Career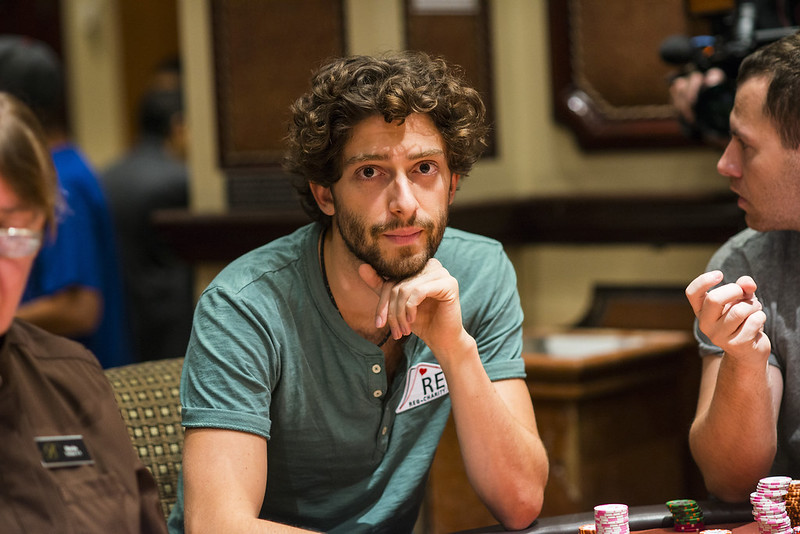 Usually most players begin their journey on the virtual felt (like Nathan aka BlackRain79, Scott Seiver, JNandez, Phil Galfond, just to name a few), however, Kurganov's early poker days didn't start online.
Instead, he directly ventured into live tournaments. Right from the start, his determination was straightforward – become a pro, and that's what he did. No time wasted.
He started playing professionally in 2010, and his very first tournament was Pokerstars Caribbean Adventure. During this event, Igor ranked 112th, taking home a $20,000 prize. Shortly after that, he won 1st place during the EPT High Roller (Monte Carlo) in 2012. That time, he got $1.4+ million in winnings.
Not only that. This man has a record of getting into the final table three times for Aussie Millions. This time, he had taken home a little over $1+ million cash. He still had several achievements in the following years, building up his bankroll and setting his track records.
Kurganov is one of the very few pros who play ultra-high stakes (like Garrett Adelstein, Justin Bonomo, Tobey Maguire the Spiderman, Fedor Holz, Dan Negreanu, Phil Hellmuth, Fatima Moreiro de Melo, and many others).
They are usually the biggest 'losers' and the highest winners at the same time. These are the very people who either make it or break it. However, Igor didn't become popular overnight.
It wasn't until 2017 that he got his major accomplishment as a pro. He took home a WSOP bracelet together with Liv during the $10,000 Tag Team NLHE.
---
PokerStars Ambassadorship
You likely know that PokerStars is one of the biggest online hub for poker players.
Before, they had this group called Team Pro and the site has a dedicated page for the list of those members. However, the players included in the team slowly left one by one.
Igor and Liv officially announced their separation with the team via Twitter in November 2019. Though they left, it looks like they are still on good terms with the team and no bitterness was foreseen on the post.
A few years back before this announcement, big league players like Vanessa Selbst and Jason Mercier also left the group. Then shortly after, Daniel Negreanu went separate ways with PokerStars as well. Same goes for the Ukrainian Eugene Katchalov.
For whatever reason they left, it probably worked out for the best seeing how these players managed to still continue making name for themselves after quitting.
---
Founding REG
But the main achievement is probably his organization of the Raising for Effective Giving (REG) charitable foundation. It is made up of poker professionals who donate a percentage of their profits to charity. So, in 2014, about half a million dollars were transferred to the needs of the poor.
"Sometimes we take money from those who need it, this is bad, but we give it to those who need it much more," Igor Kurganov shared.
When you are blessed with so much, it doesn't hurt to give back to society. This is probably the motivating factor that led to the creation of Raising for Effective Giving.
REG is an organization that does fundraising activities to help charities. The founders Liv Boeree, Igor Kurganov, and Philipp Gruissem thought it would be nice to help solve some problems of those with less progressing economies.
Since the founders are blessed enough to have more financial resources, they thought about pooling people with the same mindset together so that they can contribute more to the society.
However, the org has a set of criteria before they donate to charities, including their cost-effectiveness.
Right now, REG has a total headcount of 87 members. They are not only professional poker players. There are also people coming from various industries who pledged to contribute a certain portion of their earnings to the beneficiaries.
---
Personal Life
Being passionate about what you do (poker) requires a lot of sacrifices.
Finding a partner who understands your journey really takes off much load on your mind. Igor Kurganov and Olivia Boeree got so lucky they found each other while doing what they love – playing on the felt.
Ever since the two started dating in 2014, they have been known as the "power couple". True enough, they were able to prove that quite literally during the WSOP in 2017. At this event, they both managed to defeat 102 other teams to take the number one spot.
Liv and Igor took home a total prize of $273,964. However, half of the winnings were given to their charity, REG. And the other half was equally split by the two.
---
Igor Kurganov Net Worth
Kurganov may not be as popular as others, like Dan Bilzerian or Phil Hellmuth, but he got seriously great skills and has won millions in tournaments. In fact, his total live earnings are now at around $18+ million.
With that said, we can confidently estimate his net worth to be around $15+ million.
Since he donates some of his winnings to charities, plus he must have had several major losses as well, that's close enough to the real deal. Igor also plays online from time to time now, so that could add up to his net worth.
Anyway, here are his top cashes from WSOP:
3rd place EPT Season 10 Monte Carlo Grand Final – $1,561,116
1st place 2012 EPT Grand Final Monte Carlo – $1,428,300
1st place 2017 PokerStars Championship Barcelona – $1,275,071
6th place 2013 GuangDong Ltd Asia Millions – $1,069,137
4th place 2019 WSOP – $840,183
Do you have any other interesting facts about Igor Kurganov? Share them in the comments section below!