---
(Featured image: courtesy of WPT)
It's one thing to become a really great poker player, but it's another story to become successful in the business side of the industry as well. For Bart Hanson, it's like living the best of both worlds.
He is an American pro poker player who has made a name for himself not only by playing the game but also by teaching aspiring players to become better. Now more than ever, his social media presence is felt by many of his devoted fans as he actively shares his experiences regularly.
Bart currently resides in Los Angeles, California with his wife and son.
| | |
| --- | --- |
| Full Name: Bart Hanson | |
| DOB: N/A | |
| Nationality: American | |
| Profession: Pro poker player, instructor | |
| Civil Status: Married | |
| WSOP Cashes: 45 | |
| Net Worth & Career Earnings: $2+ Million | |
---
Bart Hanson Bio
Bart is an American poker player famous not only for his live tournament performances but also for his online coaching skills. Despite the fame, Hanson has kept his personal and early life very private. There are no mentions of names of family members and relatives, or if they have been mentioned, it may have been in passing.
But the thing about this pro player is that he loves updating his fans through his social media accounts, especially via Instagram. If you want to learn more about him, then that's a good place to start with.
If you're following his IG, you can see clearly how much of a proud dad he is. They had their son around December, and Bart never fails to share the joy of being a dad to his fans with photo updates about the baby.
Not only that, it looks like he also loves to travel outdoors and spend time with nature. Plus, he is a solid dog lover, showering fans with various photos of his pet dog.
---
Poker Career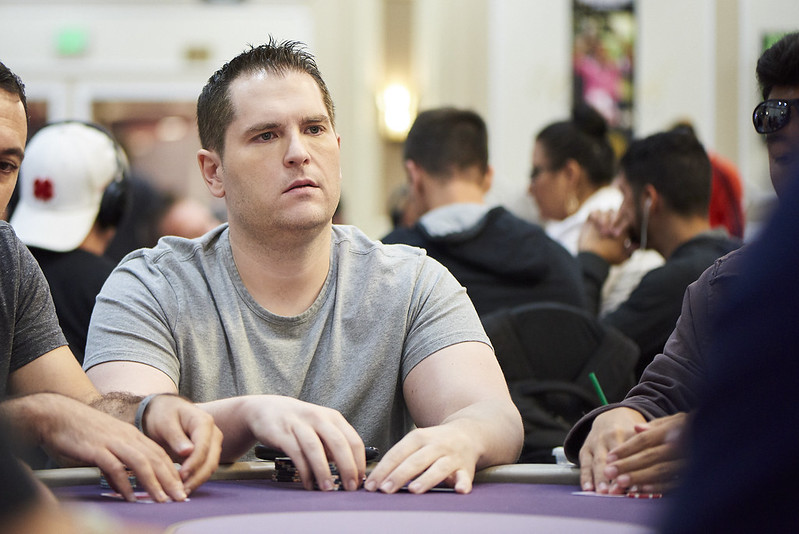 According to The Hendon Mob, Hanson's first-ever live tournament happened way back in 2004 for the Heavenly Hold'em Los Angeles event. His first live winning only amounted to $485.
But just like what they always say, you have to start from the bottom to reach the top. We all can agree that he managed to climb the ladder of success and is now currently enjoying the view after successfully launching Crush Live Poker, which we will be talking about in a bit.
Many poker critics commented how good of a player Bart is. Though he isn't known for high stakes, he does very well in mid-stakes events. Sometimes his moves are interpreted as playing safe, while others say that he's just playing smart. Whatever the case may be, his stats is enough proof that he's got some skills to show.
In terms of WSOP events, Hanson is quite a regular. Though he hasn't won a bracelet yet, he has had 45 cashes so far. Among his top cashes include the $344,079 winning during the 2019 WSOP $1,500 NLH Monster Stack.
One of the most notable live tournaments he has participated in was the 2019 WSOP Las Vegas during the $1,500 Omaha Mix (Event #63) where he placed one rank above the legendary Barry Greenstein.
Bart has also often played in Texas Card House and Live at the Bike, with the well known live stream guys like Nick Vertucci (the co-owner of Hustler Casino), Rampage, Garrett Adelstein, and many others.
Hanson was the first one to appear in Joey Ingram's Poker Life Podcast and he himself is a commentator for some livestreams at LATB.
Check out the video below where Hanson analyzes the largest pot in the history of Live at the Bike. Quad nines over top full house for a total pot of $438,900.
---
Crush Live Poker
The number of online educational platforms focused on poker is increasing rapidly. Among the most favorite ones is Bart Hanson's Crush Live Poker. CLP garnered great reviews from a lot of actual users, saying the guy's just the best at what he does.
The website allows you to learn the game through various media – podcasts, videos, and special lessons by no less than Bart himself. Probably the best thing about this site is that it is very beginner-friendly.
If you don't know how to start your journey to becoming a poker player, you don't need to worry. They can help assess your strengths and will help you find where you are good at. This way, you'll be able to unleash your full potential as a player. You can take the quiz at the site whenever you want.
Unlike other platforms that allow you to purchase the courses individually, CLP is promoting a subscription-based scheme. You need to subscribe to be able to access the contents. If you are only interested in podcasts, then you can go with the basic plan. If you want both podcast and video training, there's a plan for that as well.
All in all, the goal of the entire Crush Live Poker team is to help you become a better player for small and mid-stakes games.
---
Bart Hanson Net Worth
Based on official tournament records, Hanson's winnings are at $1,075,617. That's only for his live games, but what about income from his CLP website and other cash games? We can very well assume his net worth is around $2,000,000+ at the moment.
Here are his lifetime top cashes:
4th place 2019 WSOP No Limit Monster Stack – $344,079
115th place 2007 38th Annual WSOP (Event 55) – $58,570
8th place 2007 WSOP Event 3 – $55,246
16th place 2013 44th Annual WSOP – $51,292
19th place 2016/2017 WPT L.A Poker – $45,380
Have you watched or listened to any of Bart's lessons? Do you find them effective? Share your thoughts in the comments below!