---
(Featured image: courtesy of WPT)
In a world dominated by male players, it's refreshing to see some women take part in the action. Annette Obrestad is among the few female poker players who are recognized on a global scale. She is also the youngest player to get a WSOP bracelet.
This female fatale is from Norway, who also has a YouTube channel with a sizeable following. If you think her content endlessly talks about poker stuff, you clearly haven't seen any of her videos. The thing is, she shows her girly charms on her channel by focusing on make-ups, especially eye shadows.
It's actually pretty cool seeing her rock both activities – one with a very competitive environment, and one where she can be just herself. No wonder she keeps getting more and more fans by the day.
| | |
| --- | --- |
| Full Name: Annette Obrestad | |
| DOB: September 18, 1988 | |
| Birthplace: Sandnes, Norway | |
| Profession: Poker player, YouTuber, influencer | |
| Civil Status: Married | |
| WSOP Bracelet: 1 | |
| Net Worth & Career Earnings: $4.5+ Million | |
---
Annette Obrestad Bio
Obrestad was born in Norway, and had a happy childhood, according to her. Though her parents got divorced when she was 4, and she lived with her mom, she had a good relationship with her dad.
In fact, her father introduced her to poker when she was still young. They would play different versions of the game including the 7-card stud and 5-card draw. And she quite easily learned how to win the game against her father many times.
She got hooked to the game that she wanted to play online. So, she asked her mom if she can use their credit card to fund her account. In fear that her daughter might get addicted to gambling as early as 15, she refused to let her cash in using her card.
Surprisingly for the young Annette, she understood and respected the decision of her mom. But that didn't stop her from playing poker online. She joined freeroll tournaments and while it's almost impossible to build a decent bankroll with its minimal winning, she was able to rise up to the top with just that.
From then on, she was known as Annette_15 who literally spent nothing in the beginning and later became one of the world's well-known female poker players.
(In fact, she's often listed next to names like Vanessa Selbst, Liv Boeree, Jennifer Harman, Vanessa Rousso, Maria Ho, and many other great women in poker.)
---
The Huntress: Poker Career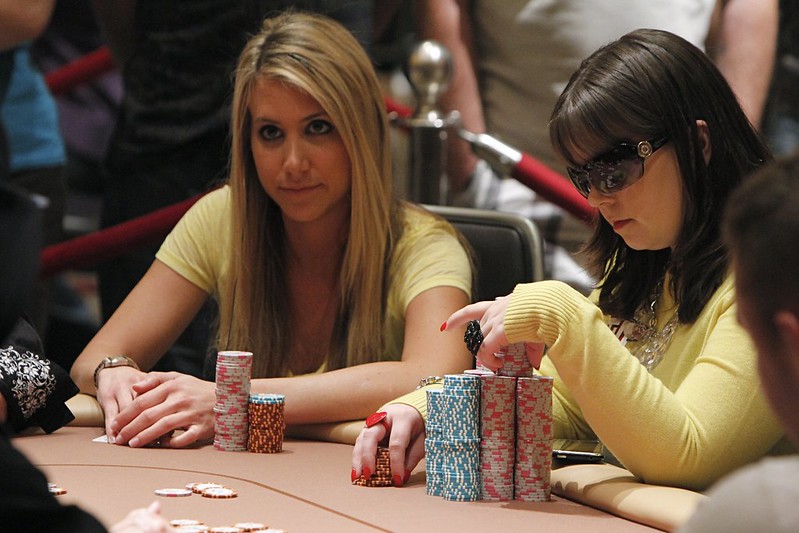 She began playing poker very early, at 15.
At first, she was into online poker games, participating in various freeroll tournaments since she had no credit card to use in funding the account, she settled for that. But she never stopped hoping to win free cash from her tournaments, and luckily she did.
That's when she started playing for money. She used that little winning as her bankroll. She was able to let it grow so she enjoyed playing for a while. Since she was not of legal age at that time, she couldn't withdraw the winnings from her online games, so she just let it grow there.
READ ALSO: Can You Play Poker Legally Outside of a Casino?
In three years' time, she allegedly had near $500 Million from games like Full Tilt Poker, UltimateBet, and Poker Stars.
Upon turning 18, she was decided to pursue a professional poker career so she dropped out and started to really get serious about card playing.
Her decision wasn't so bad at all. She holds the title of the only person who won the 180-contestant Sit&Go tourney without looking at her cards (well, almost. She said she peeked once).
The biggest highlight of her career was winning the 2007 WSOPE tournament. A few days before she turned 19, she joined the main event, even with only a few people knowing her name.
During her tourneys, she was able to beat other experienced high roller players like Patrik Antonius, Gus Hansen, and John Tabatabai.
This is her first WSOP gold bracelet, and because of this, her name has gone down the history of the poker industry. She was the first female player to ever win the WSOPE tournament and the youngest one to set that record.
---
Personal Life
Despite being an influencer and YouTube superstar, she has kept her private life quiet. We just know that her husband supports her through ups and downs and that he was the one who inspired her to take care of her fitness better.
For those of you who didn't know, she has not been active in the live poker scene for many years now. In 2015, she transitioned from being a pro player to focusing on her fitness. She got obsessed with her eating habits, to the point that she didn't have time to practice the card game.
But that hardly made her sad since she mentioned she also lost interest in the game and didn't have the energy to keep up with the modern poker trends.
So, after getting back up her feet, she created her YouTube channel known as Annette's Makeup Corner. You can even find her life story in one of the videos she posted.
---
Annette Obrestad Net Worth
While there's no definite announcement of Obrestad's net worth, we can pretty much estimate it to be around $4.5+ million.
That's of course based on her recorded live tournament winnings of $3.9+ million, plus her other winnings from online games and probably her YouTube channel. So, that's pretty much a decent estimate if you consider losses as well.
Anyway, she has made huge cashouts during her poker career and these are her top three cashes so far:
1st place 2007 WSOPE London Main Event – $2,000,000
2nd place 2007 EPT Dublin Season IV – $416,920
2nd place 2011 Wynn Classic – $215,922
Although she is no longer active in poker and there's a little chance we're seeing her again in the coming years, it's still great to see Annette getting back up her feet with makeup stuff.
If you've seen the video above, she had been through a lot, and seeing her thrive on YouTube is something even her poker fans would be happy about.
Did I miss any important highlights in Annette's career? If you know some interesting facts about her, you're welcome to share them in the comments section below.