---
(Featured image by Tambet Kask with Unibet Open)
There are several ways how you can enjoy poker. You can play home games for fun with family and friends, go big in live tournaments, or just sit in front of the computer and compete virtually.
Just like Nathan "BlackRain79" Williams, Viktor Blom is one of the card players who started their professional careers through online poker.
Back then, no one knew him as Viktor. Rather, he was well-known for his online username Isildur1. Even when he started playing live tourneys, he kept his identity lowkey.
It was only in 2011 when it was revealed that Blom and Isildur1 are one and the same person. It was announced by PokerStars in the 2011 Caribbean Adventure organized by the team.
He became extra popular because of his aggressive gameplays. Plus, he is fond of playing multi-tables, which is very much popular in online poker setups. And, he is a high-stakes roller too.
| | |
| --- | --- |
| Full Name: Viktor Blom | |
| DOB: September 26, 1990 | |
| Birthplace: Gothenburg, Sweden | |
| Profession: Pro poker player | |
| Civil Status: Single | |
| WSOP Cashes: 5 | |
| Net Worth & Career Earnings: $1.75+ million | |
---
Viktor Blom Bio
Blom was born in Sweden on September 26, 1990.
They are 6 in the family, with three other siblings and his parents. He was the youngest child. He has two older sisters and one older brother. He was close to all of his siblings, but he was closer to Sebastian, the brother.
Actually, Viktor learned how to play the game because of his brother. He watches him play with friends and he naturally learned the game with the assistance of Sebastian. When he was 14, his sibling was shocked at how good he was at playing it.
Since then, the youngest Blom had fancied poker games, even inviting a couple of friends over to enjoy with him. During school breaks, they scheduled mini home games with low stakes and that made him even better on the felt (or table that time?)
On his 15th birthday, Viktor and Sebastian agreed to pool their money and play for real cash online. After just a few weeks of playing, they were able to win $300.
They split the money and decided to go separate ways. While his brother decided on cashing the money to a different online poker site, Viktor went on and continued playing under the name "blom90".
After just a few months into the online card gaming platform, he has already won $275,000. He was still 15 at that time. Phew! He must really have some serious skills (and luck, maybe) to be able to achieve that.
---
Poker Career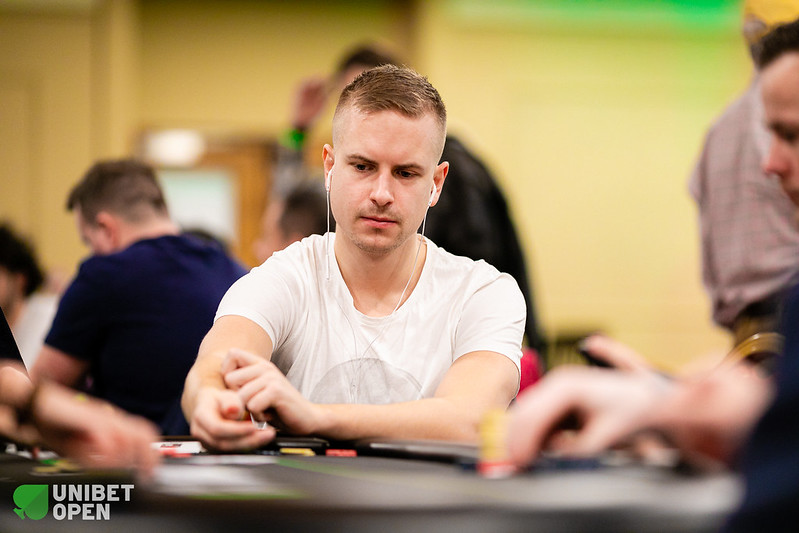 As mentioned above, he was exposed to poker at a young age. But, we can all assume that this formed a strong foundation for his professional poker career. They say you have to start them young, right?
After several months of playing at PartyPoker.com, Blom took a break from playing online. But, he came back a year later, he was 16 going on 17 at that time. He used his old account and in a matter of 2 days, he was able to win more money than he ever did in the past.
At some point, his total winnings reached $1.7+ million. However, knowing how aggressive he is as a player, experienced a losing streak at the site so he went on to find another platform to play on.
Then, he discovered Full Tilt Poker and his professional online poker career began to take off.
He played against popular players in the industry like Phil Ivey and Patrik Antonius. The funniest part about this is that the two iconic players didn't know Blom's true identity. He kept it hidden behind the name Isildur1.
Due to his popularity in the online world, he was scouted by PokerStars in 2011.
(PokerStars like building an international team of pros, just like they did with the Canadian Daniel Negreanu, British Liv Boeree, Ukrainian Eugene Katchalov, French-American Vanessa Rousso, and so forth.)
They signed him up as a member and he started participating in live tournaments. But prior to joining the team, he already achieved his first live winning during the 2010 WSOP Europe. He got 16th place for the main event, leaving him with a prize of £33,582.
In 2012, he became the champion for PokerStars.com Caribbean Adventure and won a whopping $1.2+ million prize! This is also the time when his identity was revealed to the public.
---
Personal Life
Judging from the way he kept his identity a secret for several years, we can all safely guess that Viktor greatly values his privacy. So, there is not much information about his personal life.
If you know who is he dating right now and anything about his personal life, feel free to share in the comments!
---
Viktor Blom Net Worth
To date, Blom's total live earnings alone are at $2.9+ million according to The Hendon Mob.
But, given his aggressive gameplay, he has had several major losses as well. With his net live earnings combined with estimated online winnings, his net worth is now valued at $1.75+ million.
Here are his top cashes so far:
1st place 2012 PokerStars.com Caribbean Adventure – $1,254,400
1st place 2018 PartyPoker NLHE – $1,054,000
2nd place 2020 Super High Roller Bowl Online – $320,625
So, have you got some additional information about our Swedish player Viktor Blom? Feel free to write them down in the comments section below!