---
(Featured image by FlipChip702 on Flickr)
Sammy Farha's story isn't as big as that of Phil Hellmuth's or Tobey Maguire, but this fellow has become another icon in the poker industry during the "old" days.
He was one of the first few players who paved the way for making the card game more popular than it was ever before.
He is of Lebanese descent but they moved to the United States after the unsettling civil war in their country in 1975. In the US, his family aimed to have a better life. And indeed, years later, Sam was able to start his path towards his professional poker career in the United States.
Also sometimes known as Mister Cool, this man was able to bag 3 WSOP bracelets in his entire career. This is not so bad considering most of them started without proper guides to poker as younger players now have.
| | |
| --- | --- |
| Full Name: Ihsan Farha | |
| DOB: February 23, 1959 | |
| Birthplace: Beirut, Lebanon | |
| Profession: Pro poker player, businessman, spokesman for Harrah's Casino | |
| Marital Status: Married | |
| WSOP Bracelets: 3 | |
| Net Worth & Career Earnings: $110+ Million | |
---
Ihsan "Sammy" Farha Bio
When he was a teenager, his family decided to migrate to the United States to find refuge amidst the civil war in Lebanon. Sammy was still a teenager then.
Two years later, he went to the University of Kansas in 1977 to pursue a degree in Business Administration. During college, he enjoyed playing various games at the side – pool, PacMan, and pingball.
Allegedly, he was so good at these games that he was able to turn it into a worthwhile cash-generating activity back then. He played against other people for cash.
After finishing his degree, he decided to move to Houston, Texas, where he worked with his brother. A year later, he experienced his first ever poker game.
He saw how much earning potential it can provide and thought it would be a worthwhile career to consider. It was in 1990 when he decided to ditch his job and focus on being a professional poker player.
---
Poker Career
Sammy's poker career wasn't as noisy as that of Daniel Negreanu, but he had his own shares of wins and losses.
Among the very notable finishes he had was when he ranked 2nd to Chris Moneymaker in the 2003 WSOP main event. There, he got the $1.3M of the prize money. The history will also remember him the player who folded to what many refer to as "bluff of the century" by Moneymaker.
However, this was easily swept off on the next day when he had a match with Barry Greenstein. He was left with only 10% of the entire stack. At that point, he was ready to quit but was later convinced by his opponent to finish the game, where he lost again to Moneymaker.
A short while later, PokerStars organized a rematch event for Farha and Moneymaker. This time, Farha had the last laugh. But on a grudge match in 2011, Chris beat Sammy again in a best-of-three game.
Sammy won his three WSOP bracelets in 1996, 2006, and 2010 – all of which are from Omaha games.
Farha also appeared numerous times in a TV program called High Stakes Poker where he played with big stars like Doyle Brunson, Phil Ivey, Jamie Gold, Jennifer Harman, and many others.
---
Sam Personality Controversy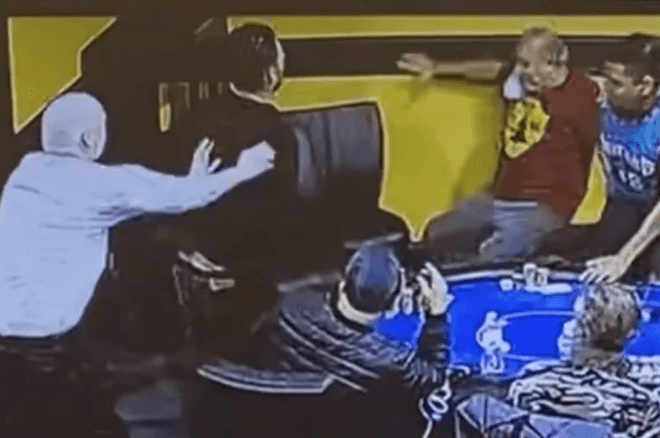 Farha is known to have quite a personality; many poker players who have interacted with him would agree. Well, that's kinda his style and he always plays aggressively so that must be part of his entire character.
While it's understandable for a match to get heated, sometimes things tend to go out of control just like what happened with him and a dealer who goes by the name AJ.
Sammy got into a scuffle with a former dealer who worked at 88 Social Poker Room by Johnny Chan. It was said that they already had a feud when AJ was still working at 88. They were said to have exchanged foul words with each other and AJ claimed he was fired because of Farha.
But witnesses have said that the dealer was fired from the poker club because of starting the verbal fight with Farha despite him being his usual self. Then, they met again when AJ turned up at the poker room where Sammy apparently was in.
When Sam saw him, he wasn't comfortable and probably might have said quite loudly that he has a problem with the dealer being there. Unfortunately, AJ heard this and confronted him. After exchanging words to throw off each other, AJ decided to take the matter into his own hand by slapping Farha.
While the legend's fans are not happy about the physical fight, many dealers sided with AJ. They said Sammy deserved it for being nasty to all dealers.
Overall, many confirm that he's not being a nice player or person to people/dealers.
---
Personal Life
Ihsan has always been a private person, even after he was already recognized in the poker industry.
There's not much we know about his family life, but one thing's for sure: he is married. As to the name of his wife and kids, the player has managed to keep it private as well.
If you don't know yet, he is also a co-author of the book entitled "Farha on Omaha", which clearly shows how much he fancies this game over Texas Hold'em.
---
Sammy Farha Net Worth
Though his poker career is not as big as other more popular players, he has quite a remarkable net worth of around $110+ Million.
The sources of his wealth is a combination of both earnings from his official games and tourneys, private high stakes poker, and personal business ventures.
Here are his top 3 cashes during his active years as a pro player:
2nd place 34th WSOP 2003 – $1,300,000
1st place 2010 41st Annual WSOP Event 25 Omaha 8 or Better – $488,237
1st place 2006 37th Annual WSOP Event 12 Omaha 8 or Better – $398,560
So, is there anything we missed about Sam Farha's poker career? If you know some information about him, share them in the comments section below.